All purchasing from www.bitdefender.in are only for Indian region. Licenses cannot be supplied, activated and support in others countries.
Bitdefender
Antivirus Plus 2017
Do your thing, protected
Windows protection
Best antivirus protection against all e-threats
Superior performance with no slowdowns
Wi-Fi Security Advisor: always secure on the go
Single-touch security: advanced automatic protection
Comprehensive support, 24/7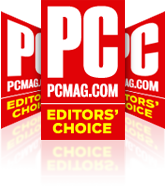 "Packs every feature you expect in a security suite"
September 2016, PC MAG
Advanced security, light on resources
Bitdefender Antivirus Plus 2017 protects against even the most dangerous e-threats without affecting your system's speed. This means you get pure performance, with no slowdowns. With Autopilot on, Bitdefender Antivirus Plus 2017 automatically makes the best security decisions to safeguard your data, your online transactions and your privacy.
Choose Bitdefender Antivirus Plus 2017 for the best value on the market. It's packed with features and amazingly powerful, yet easy to use and feather-light on resources.

Enjoy all the benefits of Bitdefender's award-winning security on Windows 10
Best virus detection rate
5 years in a row
In our labs, we harness Artificial Intelligence and develop the world's most advanced
technologies to offer you the best virus detection rate in the world, without slowing down your devices.
Best Protection Against Infections (on a scale of 0 to 6 and 6 being the highest protection)
Overall Score. January 2011 – August 2016. AV TEST.
Lowest Impact on Performance (on a scale of 0 to 6 and 6 being the lowest impact)
Overall Score. January 2013 – August 2016. AV TEST.
New and Noteworthy

Wi-Fi Security Advisor
Make sure you are always secure, no matter what Wi-Fi network you connect to. With Wi-Fi Security Advisor, you know you are completely safe using your apps, doing your banking or shopping or browsing the web, whether you are online at home or on the go: in parks, cafes, hotels or airports. Wi-Fi Security Advisor guards you against hackers, data snoops and malware by checking Wi-Fi networks for security holes and vulnerabilities.

Advanced Ransomware Protection
Ransomware can cost you precious files or money – and frequently both. It is a type of malware that can gain access to your computer and encrypt important documents, rendering them totally unusable. Cyber-criminals demand ransom to release the decryption key. Bitdefender Internet Security 2017 lets you create special folders for your important files, protects them against any ransomware attack, and notifies you about any malicious attempts.
Trusted by
Over 500 Million People
Take a Look Inside

Protection
---
Bitdefender's security software has had the best malware detection rate in the industry for the past 5 years. The secret of being the top cyber-security company for so long? We use advanced Artificial Intelligence and a host of other revolutionary technologies, as well as a global network of more than 500 million computers to anticipate, detect and instantly block even the newest threats anywhere in the world. Even better, we do all of this without slowing down your devices.
---
Complete Data Protection
Absolute power in the most efficient antivirus available today. Bitdefender Internet Security 2017 works against all threats, from viruses, worms and Trojans, to ransomware, zero-day exploits, rootkits and spyware. Your data and your privacy are in good hands.
Active Threat Control
We use an innovative technique called behavioral detection to closely monitor your active apps. When Bitdefender Internet Security 2017 detects anything suspicious, it takes instant action.

Performance
---
A race car that is also an impenetrable armored vehicle? Bitdefender Internet Security 2017 gives you the best of both worlds. It's incredibly powerful and ultra-fast at the same time. Our revolutionary technologies ensure instant reaction to malware, as well as pure performance with no slowdowns from your system. It's what lies under the hood that makes Bitdefender so fast and easy to use.
---
Bitdefender Autopilot™
Once switched on, Autopilot will run your entire cyber-security by itself. It makes optimal security decisions without asking for your input through nagging pop-ups and dialog boxes. Nothing to set up, nothing to configure.
Bitdefender Photon™
This innovative, exclusive technology helps Bitdefender Internet Security 2017 adapt to the hardware and software configuration of your system to save computing resources and improve speed and performance.

Privacy
---
We at Bitdefender know you want to protect what is really important in your life. You want to keep your family safe, and to be able to choose what to share and what to keep from prying eyes. That's why Bitdefender Internet Security 2017 incorporates tools and features that make it impossible for hackers, data snoops and all kinds of malicious programs to invade your private life.
---
Worry-free and fast online
Bank and shop from a unique, dedicated browser that secures your transactions to prevent fraud. Bitdefender Safepay can now also automatically fill out credit card details in billing fields.
Family-oriented protection
With Parental Advisor, you can discreetly supervise your children's online activities so they are always safe online.
Privacy Firewall
With Bitdefender Internet Security 2017 you get an extra layer of protection so your personal information stays safe from hackers and data snoops.