All purchasing from www.bitdefender.in are only for Indian region. Licenses cannot be supplied, activated or supported in others countries. close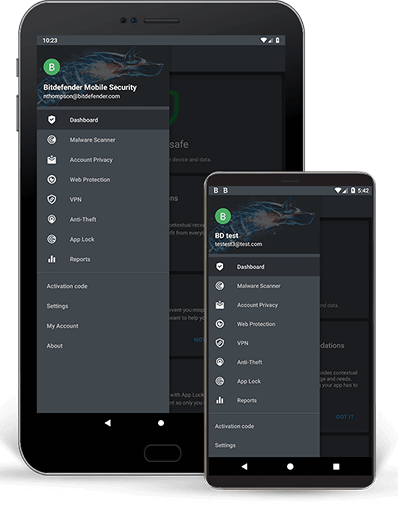 Mobile Security
Autopilot

improved

VPN

new

Account Privacy
Best Android Security Product 2015, 2016, 2017
PC MAG. Editor's Choice - 3 Years in a Row
AV TEST. 100% detection according to March 2017 Test
Recover your Device in a case of Loss or Theft.
Zero Impact on Battery Life.
Existing Customers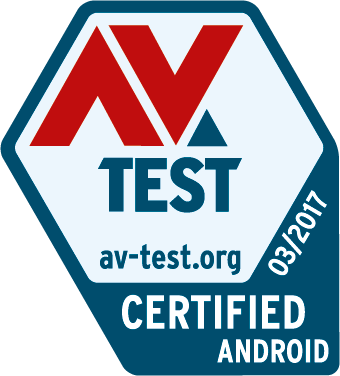 Bitdefender scored 100% once again
MARCH 2017 Test
Best Protection. Best Performance.
Best Protection Against Infections (On a scale of 0 to 6 and 6 being the highest protection)
Overall Score. July 2019 - September 2020. AV TEST.
Lowest Impact on Performance (On a scale of 0 to 6 and 6 being the lowest impact)
Overall Score. July 2019 - September 2020. AV TEST.
Best Antivirus for Android mobile
PROTECTION FEATURES
Bitdefender Mobile Security utilizes the following features: Malware Scanner; Account Privacy; Web Protection; VPN; Anti-Theft, including: Remote location, Remote device lock, Remote device wipe, Remote device alerts; App Lock; Reports; WearON.
The antivirus is free for the first 14 days. After that, you will have to purchase a subscription.
Malware Scanner
Bitdefender starts scanning your mobile device as soon as a new application is installed or updated and gives you an option for a manual scan whenever you need one. In order for a scan to start, you have to make sure that your device in connected to the Internet. Whenever a dangerous application is detected, you will be given a notification that recommends you to uninstall the application. Simply tap Uninstall to proceed with the uninstallation. A feature any antivirus for android should have.
By default, Bitdefender scans any mounted SD cards while scanning the internal storage of your mobile device. You can turn this off in setting anytime you want, although, this is not recommended, as this will mean that you will endanger your mobile device with a wide range of threats.
The Malware Scanner card shows you the current state of your mobile device. It stays green, when no action is requited, and will become red whenever you attention is necessary.
Account Privacy
Most other antivirus software for android has nothing to do with your privacy. Bitdefender Account Privacy monitors data leakages that occur while you do online shopping, pay for goods and services online or log in in different applications or websites. These data include passwords, credit cards security data, account name, etc. Bitdefender makes automatic rechecks in background, but you can always perform a manual scan. You will be notified if a leakage has been detected.
We strongly recommend you to change your password in case of a detected leakage. A strong password must contain at least 8 characters, include lowercase and uppercase characters and numbers or special symbols. All devices need antivirus software for android mobile.
Web Protection
Web Protection monitors which websites you try to access and stops you from opening potentially dangerous websites by blocking the attempt and warning you of the possible threat. All computations use cloud technology saving your phone battery. You can always ignore a warning and proceed to the website if you think this is a mistake and you trust this website.
VPN
A good paid antivirus for androids should have this.
Bitdefender VPN makes sure your data is secure whenever you use public wireless networks. It makes sure that no one steals your personal data and that no hacker can access your device by your IP address. VPN is a technology that creates a secure tunnel for you to safely use the web. It encrypts your connection and hides you IP address.
VPN is also useful when you need to bypass your country's censorship applied to some websites. Before using Bitdefender VPN, make sure that the country of your current location does not forbid you from using VPN, as it may lead to confrontation with local authorities.
Anti-Theft Features
This feature is useful when you cannot locate your device or sure that it was stolen. All you need to do is activate Anti-Theft on your device BEFORE the loss of your device, then access Bitdefender Central from anywhere. You can also protect you device by simply sending it an SMS command, in case you don't have access to the Internet. A very useful antivirus android feature. No one likes thieves
Bitdefender Mobile Security detects your device using 3 different approaches:
• GPS tracking. Works only if your device has turned on GPS and is outside of buildings.
• Wi-Fi tracking. Works inside buildings. Your device has to have its Wi-Fi on, and it has to be close to a Wi-Fi hotspot with access to the Internet.
• Mobile tracking. Activates in case 2 other methods show no results. Very inaccurate.
Bitdefender automatically chooses best method of tracking. There is no need for you to choose it manually.
App Lock
App Lock is useful for restricting access to your applications by setting a security PIN code. You may need this feature if you think that other people can access your device and your personal data that you don't want to show them. This includes emails, photos, messages, etc. You will be asked to set a PIN code that is at least 4 digits long and at most 8 digits long.
Most best antivirus for android mobile have this feature.
Entering wrong PIN codes five times in a row will result in a 30 seconds time-out session. This is to protect the blocked applications from breaks in by guessing a PIN code.
The PIN code you use here can be later used by Anti-Theft to locate your device.
You can also use a fingerprint instead of a PIN code on devices that support fingerprint recognition.
You can always antivirus software download for android mobile from the Bitdefender website.

Four options on how you want to lock your applications are available for you to choose:
• Lock every time – You will be asked to enter a PIN code or use your fingerprint each time you want to access a locked application. You may want to antivirus download for android.
• Unlock until screen off – You will have access to your application until the screen turns off.
• Allow a brief exit – You will have 30 seconds to access your unlocked application after you close it.
• Activate Smart Unlock – When activated and connected to a trusted network, no PIN code or fingerprint is needed to gain access to locked applications
Reports
Most antivirus for android tablet make reports. The Reports feature keeps track and logs all scanning activity on your mobile device. It creates a new report each time an event relevant to the security of your mobile device occurs.

The following reports are available from the menu:
• WEEKLY REPORTS – Here you can access reports on event of the previous and current week. Weekly reports are generated each Sunday, and you will receive a notification each time this happens.
• ACTIVITY LOG – Here you can access detailed information on Bitdefender's activity since the beginning of its operation on your mobile device. Try to antivirus download for android mobile. You can delete an activity log simply by tapping a button in the upper-right corner of your screen, then selecting Clear Activity Log.
• Allow a brief exit – You will have 30 seconds to access your unlocked application after you close it.
• Activate Smart Unlock – When activated and connected to a trusted network, no PIN code or fingerprint is needed to gain access to locked applications
WearON
Bitdefender WearON allows you to find your mobile device while you have your smartwatch on you. Not even the silent mode can stop you from finding your smartphone. Make sure your smartphone has this feature enabled all the time.

Bitdefender WearON knows two commands:
• Phone Alert – Your smartwatch will vibrate whenever you are ten meters or less away from your smartphone.
• Scream – Makes your phone scream. Simple as that.
These are the features that make a best paid antivirus for android.
Bitdefender Central
Bitdefender Central is a website where you can access online features of the Bitdefender products you've bought and access your devices remotely. Any computer or mobile device will do as long as it is connected to the Internet. Use the following link to get access to Bitdefender Central: central.bitdefender.com .
Once there, you can perform the next tasks:
- Download and install Bitdefender products.
- Renew your Bitdefender subscriptions
- Add devices to your network and manage them from anywhere in the world
You can download best antivirus for android from here.
My Devices
My Devices is the section where you can manage your devices with Bitdefender products installed and access them remotely, provided that they are turned on and connected to the Internet.
Software Requirements
Bitdefender MOBILE SECURITY for Android
system requirements
Operating System: Android 5.0 or later
An active Internet connection