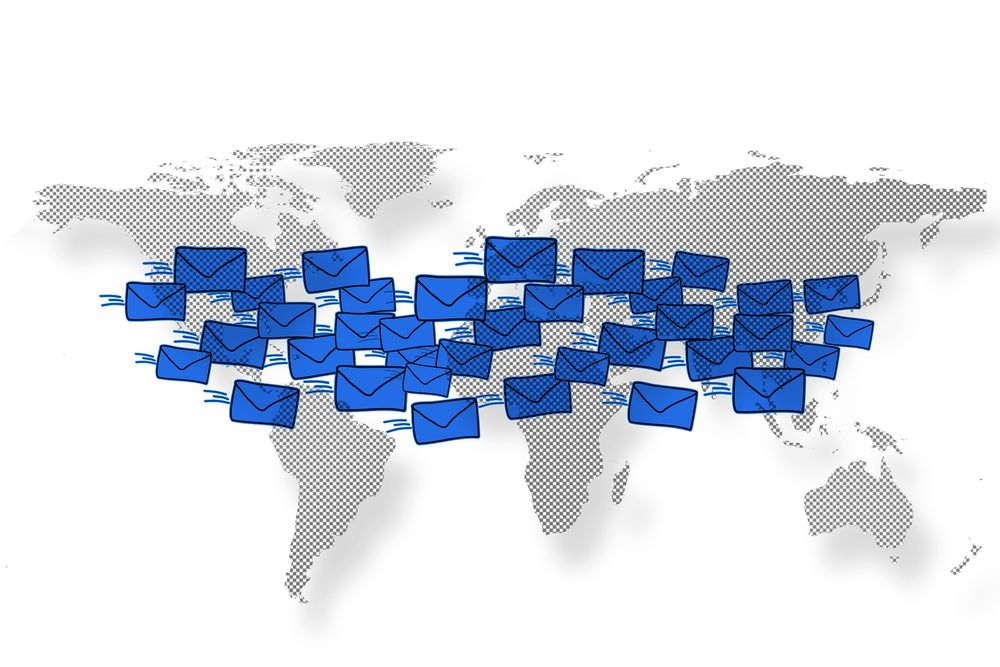 Unsolicited messages that pop up in your inbox are often annoying, but spam is also a preferred attack vector of opportunistic threat actors who seek to trick unwary individuals into sharing their financial info or allowing them access to valuable corporate networks and data.
The key spam trends of 2021 were not particularly surprising in terms of spammers' affinity to specific targets (countries) and handpicked spam topics.
Similar to 2020, spammers have their eyes set on consumers in the US – who received 40% of the global spam emails by volume. Americans are followed by the UK and Australia, with 7% each, and Germany and Sweden, with 3% each, according to Bitdefender Labs spam telemetry.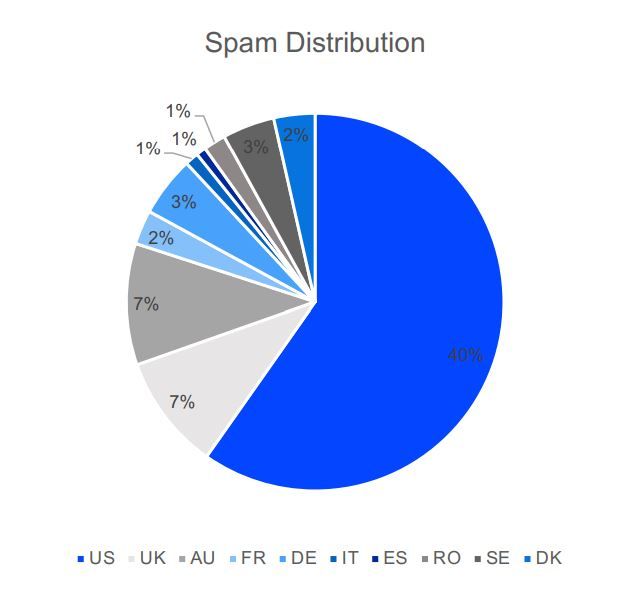 Source: Bitdefender (2021 Consumer Threat Landscape Report)
The threats behind unsolicited emails
The key spam trends of 2020 also dominated the flux of spam received in 2021. With an average of 93% of emails marked as spam by Bitdefender antispam filters, threat actors flooded users' inboxes with a varied typology of spam emails including average scams, phishing, malspam and extortion messages.
Email-based threats throughout 2021 were consistent with spammers leveraging the health crisis alongside newly established consumer behaviors, trends and headline topics.
Healthcare topics and, more specifically, Covid-related correspondence remained prevalent among spam trends, with malicious actors leveraging baits consistent with vaccination registration campaigns, Omicron test kits and coronavirus surveys aimed at stealing personally identifiable information and financial data from users.
Other main themes of 2021 include dating spam, advance-fee scams in the form of giveaways and sweepstakes, and extortion, alongside traditional phishing emails mimicking notifications, alerts, and fake orders (some with malicious attachments) from popular online service providers, financial institutions and social media platforms.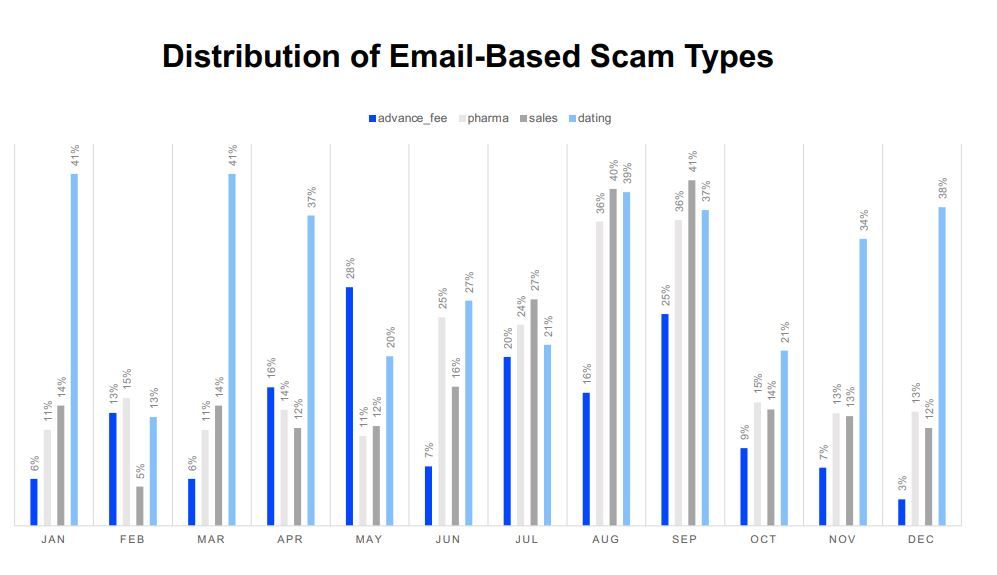 Source: Bitdefender (2021 Consumer Threat Landscape Report)
This includes e-commerce platforms such as Amazon, social media platforms such as LinkedIn and FedEx, and more.
As expected, threat actors exploited the public's interest in digital currencies, targeting crypto wallets of investors to steal login credentials and drain their accounts of digital assets.
The 2021 spam agenda saw an increase in attackers capitalizing on data dumps to legitimize their extortion claims and persuade victims to send crypto payments into their accounts.
The email-based threats of 2021 have also spilled into 2022. Despite newly emerged spam trends that leverage the war in Ukraine, we expect the remainder of the year to stay consistent with the topics and campaigns of Q3 and Q4 2021.
With this year's shopping and holiday season just a stone's throw away, spammers will undoubtedly begin recycling previous ruses or perfecting tactics to compromise more consumers and maximize their profits.
As long as email communication remains prevalent among millions of workers and individuals, malicious actors will use email-based attacks to threaten the digital safety and data of individuals and organizations.
To protect your devices, financial information and digital life against ever-evolving email threats, check out Bitdefender security solutions. They are specifically designed to block new and existing online hazards, helping millions of individuals evade malicious websites and online scams with award-winning antimalware protection and advanced anti-fraud and anti-phishing filtering systems.
Read more about Bitdefender solutions here.