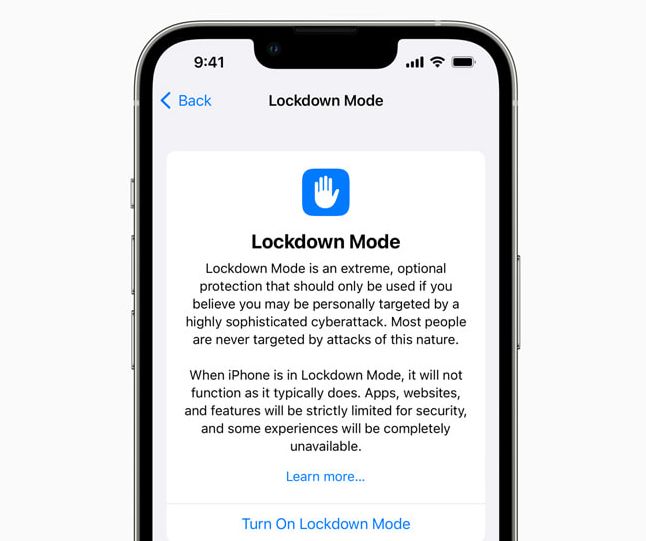 In a bid to protect users who may be at risk of targeted cyberattacks, Apple Inc has announced plans to introduce new ways to combat spyware in its upcoming OS upgrades – both mobile and desktop.
The latest beta versions of iOS and macOS seeded to registered Apple developers now include "Lockdown Mode," a feature described as an optional defense for the small subset of users most at risk of targeted threats to their digital security.
'Extreme' security
The feature, to be released publicly with the launch of iOS 16 and macOS Ventura later this year, "offers an extreme, optional level of security for the very few users who, because of who they are or what they do, may be personally targeted by some of the most sophisticated digital threats, such as those from NSO Group and other private companies developing state-sponsored mercenary spyware," Apple said.
Turning on Lockdown Mode hardens defenses but limits certain functionalities, "sharply reducing the attack surface that potentially could be exploited by highly targeted mercenary spyware," according to the tech giant.
The feature is still in development, with Apple promising to strengthen it over time. According to the press release from Cupertino, Lockdown Mode will tick the following boxes at launch:
· Messages: Most message attachment types other than images are blocked. Some features, like link previews, are disabled.
· Web browsing: Certain complex web technologies, like just-in-time (JIT) JavaScript compilation, are disabled unless the user excludes a trusted site from Lockdown Mode.
· Apple services: Incoming invitations and service requests, including FaceTime calls, are blocked if the user has not previously sent the initiator a call or request.
· Wired connections with a computer or accessory are blocked when the iPhone is locked.
· Configuration profiles cannot be installed, and the device cannot enroll into mobile device management (MDM), while Lockdown Mode is turned on.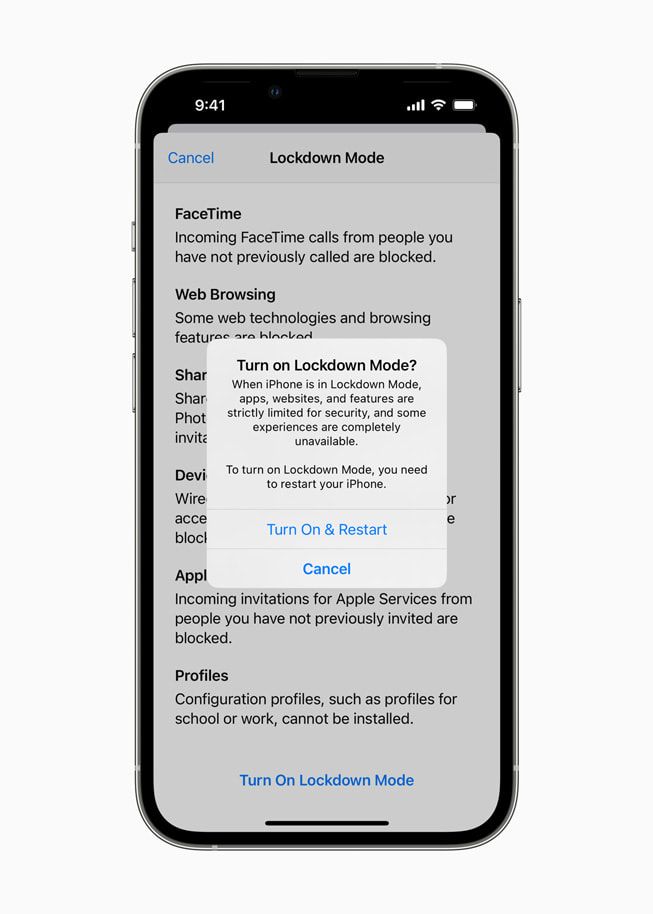 The iPhone maker has also introduced a category in the Apple Security Bounty program to reward researchers who find Lockdown Mode bypasses. Bounties for qualifying findings can reach up to $2 million – the highest payout in the bug bounty game, Apple said.
Joint efforts to fight spyware
In November 2021, Apple hit NSO Group with a lawsuit alleging that the Israeli tech firm, through its Pegasus spyware, enabled extensive state-sponsored hacking of its products.
In January 2022, the US National Counterintelligence and Security Center (NCSC) and the Department of State issued a joint alert warning citizens of zero-click malware that can "access and retrieve virtually all content on a phone." The advisory didn't name any specific malware, but described Pegasus' functionality in detail, with no omissions.
A month later, the European Data Protection Supervisor (EDPS) issued a report calling for a ban on modern spyware tools.
Bitdefender Mobile Security detects Pegasus spyware on both iOS and Android.