Advanced targeted threats are designed with a defined purpose to infect and remain undetected in a network over a prolonged period
Endpoint Protection has fundamental limitations as advanced threats easily circumvent traditional defenses by using varied tactics, techniques and procedures (TTPs)
Bitdefender Endpoint Detection and Response (EDR) provides superior performance, security analytics and incident management capabilities to enjoy a privileged spot amongst competition

In response to the novel coronavirus COVID-19, organizations worldwide have come face-to-face with the "new normal", and it has been anything but normal. The current pandemic climate has cooked up the perfect amount of fear, uncertainty, doubt and chaos.
The New Normal State of Cybersecurity
Advanced Threats, never heard of them
Cyberattacks are becoming increasingly sophisticated and organizations with a poor security mindset and infrastructure are easy pickings for hackers. An advanced targeted attack is a methodology where:
Well-established groups of cyber criminals access and persist in the network for months/years to accomplish their objectives
The adversaries escalate domain privileges and spread laterally in the network looking for richer targets inside the walls
Threat groups utilize different tactics, infrastructure, code reuse and/or general target sets to fly under the radar and remain undetected by traditional defenses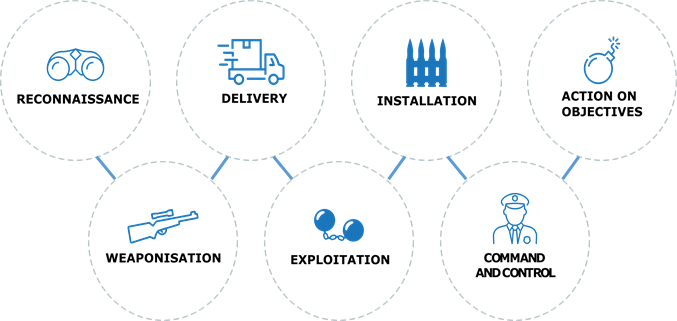 Figure 1: Advanced Threats Kill Chain
How lethal is this infection?
According to CSO Pandemic Impact Survey, 26% have seen an increase in the volume, severity, and/or scope of cyber-attacks since mid-March. Prominent among them are Ransomware, Remote Desktop Protocol (RDP) compromise and Credential Stuffing.
With data breaches becoming rampant throughout this extended pandemic season, living organizations—just like human bodies—need effective immunizations that provide:
Advanced threat analysis to decode behavior patterns from a multitude of sources
Security against advanced TTPs mapped out by MITRE ATT&CK matrix
Focused investigation to provide a granular view of events which pose maximum risk
Effective response to quickly contain infection and strengthen cyber hygiene
Bitdefender EDR provides essential ammunition to keep any organization's security posture robust.
How does Bitdefender EDR secure my network?
Bitdefender EDR thwarts cyber criminals with increased vigilance and effective containment technologies. Real-time monitoring and behavioral analysis convert threat discovery into useful insights with guidance for actionable response by security teams.
It is a powerful platform where data is collected, analyzed and correlated against key attributes and presented in a format where both security practitioners and business leaders can take decisive actions.
Technical Overview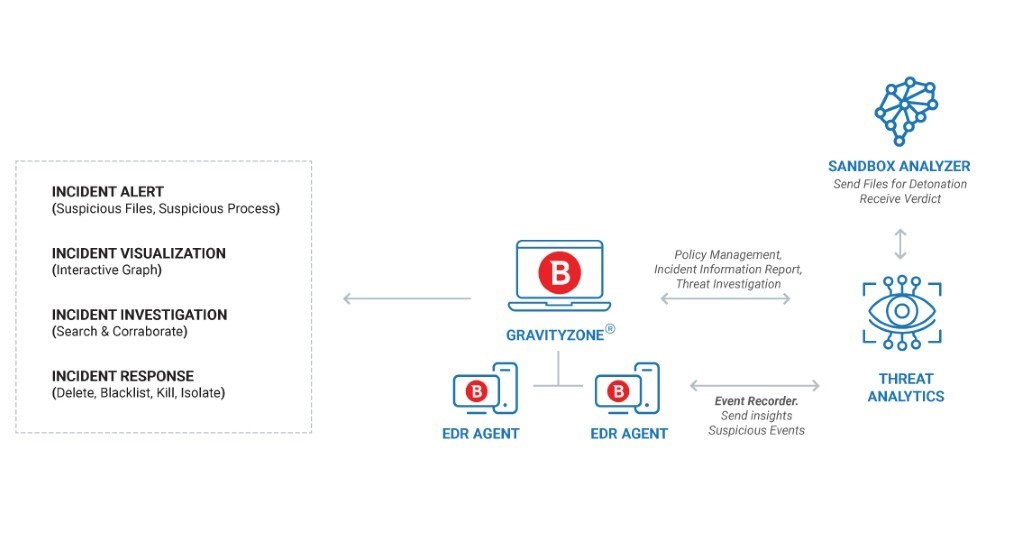 Figure 2: EDR Architecture Overview
Benefits of EDR
Traditional security products provide inadequate visibility on the TTPs used to launch advanced threats. They also lack provisions required for efficient containment. Bitdefender EDR secures customers by providing:
Seamless Integrations
EDR is the clear choice for actionable detection and response by security generalists. It is compliant with existing solutions and sits as a happy medium between Endpoint Protection and Security Information and Events Management (SIEM).
Adversary TTP visibility
EDR combines detective, investigative and compensative security controls. Equipped with specialized machine learning and event correlation models, it employs analytics and sandbox automation to detect suspicious indicators covered throughout the MITRE ATT&CK matrix.
Alert Triage and Prioritization with One-Click Resolution
EDR can help customers see beyond the typical alerts from their preventative tools. Automatic alert triage presents a clear story that enables analysts to easily read and understand incidents and take appropriate response actions.
Close the Cybersecurity Skills Gap
Graphical visualizations and easy-to-follow-built in workflows reduce the learning curve and maximize InfoSec's ability to follow guided responses to efficiently stop and remediate ongoing attacks.
Manage and Reduce Organizational Risk
An integrated, centralized Endpoint Risk Analytics (ERA) module provides comprehensive identification and remediation of many operating system misconfigurations, application vulnerabilities and human behavioral risks.
About Bitdefender
The Most Awarded Endpoint Security Vendor
Bitdefender is consistently ranked tops in independent third-party tests and evaluations:
See Bitdefender EDR in Action
Contact Us for More Information and a Demo
For further information, please contact us to schedule an in-depth product demonstration and discussion of Bitdefender Endpoint Detection and Response in standalone capacity or GravityZone Ultra for EPP+EDR to learn how these solutions work together to prevent and detect advanced attacks and help ensure swift remediation.