Black Hat has grown to be one of the cybersecurity industry's most well attended and anticipated events. Typically, more than 20,000 attendees converge each year in Las Vegas to learn more about the latest products and technologies, hear from security researchers and keynote speakers, and of course pick up some vendor swag. Due to the pandemic, however, this year looked a little bit different. But different doesn't necessarily mean it was "bad"; in fact, the Bitdefender team had some interesting takeaways from the show. Read on to learn more
Smaller crowds led to more "meaningful" conversations
Like many events in 2021, the Black Hat conference pivoted to a "hybrid model" for attendees. This format allowed for a smaller in-person audience, with an estimated 6,200 individuals joining this year's event in-person, plus a larger group of virtual attendees. In-person visitors had to adhere to strict mask mandate protocols enforced by the Mandalay Bay Hotel staff. Meanwhile, via the virtual platform, over 14,600 guests logged in to view the vendor presentations. The combined numbers matched the attendance from Black Hat 2019, and organizers believe it was the largest hybrid information technology event to date.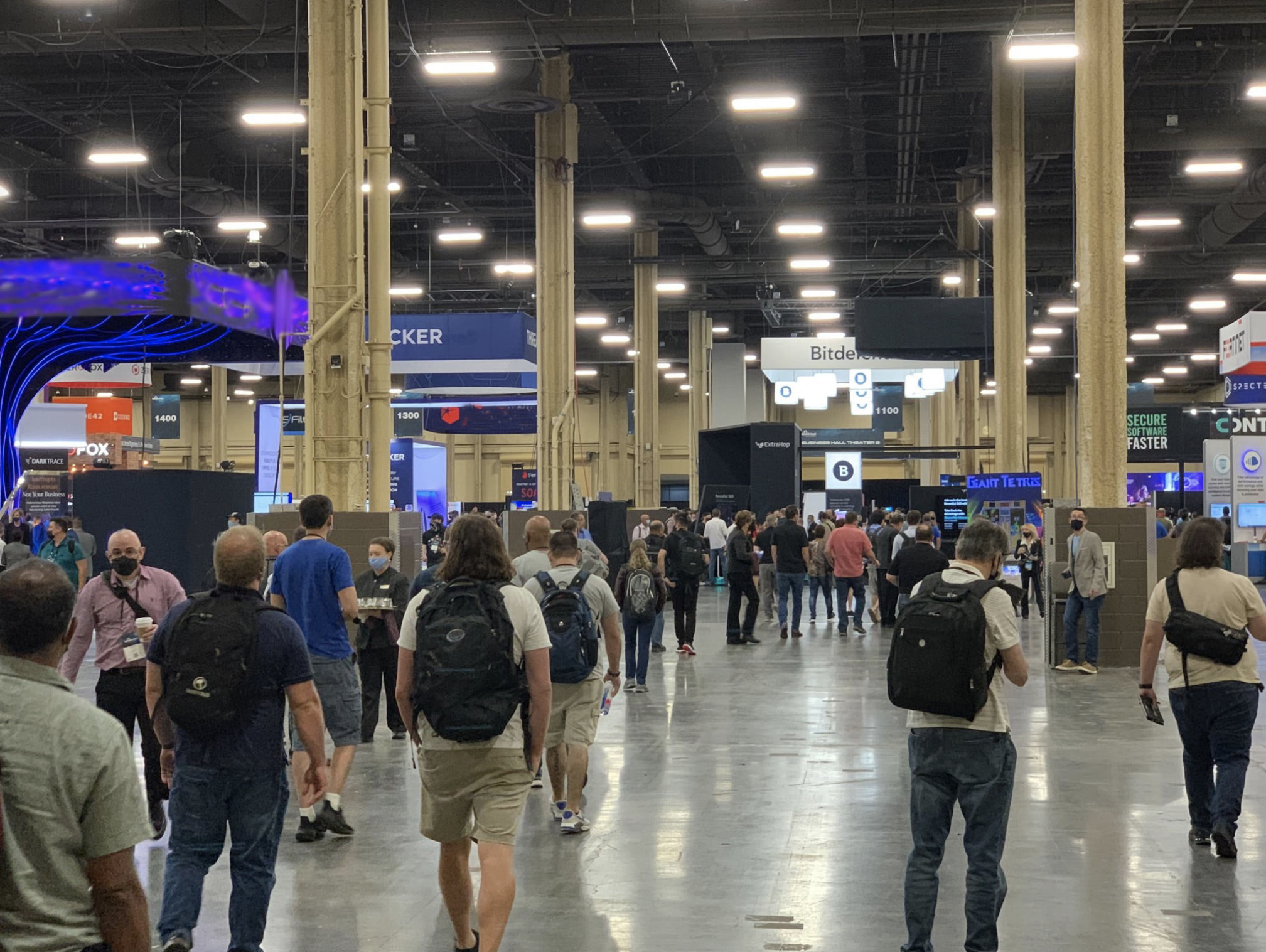 As noted by Bitdefender SVP of Marketing, Matthew Selheimer, "By having less in-person attendees, we were able to have more dialogue and intimate conversations based around their organization-specific security needs."
He added, "Due to the volume of exhibitors being smaller on the showroom floor, we had more visitors looking for targeted solutions and staying longer than typical for conversations, demos, and presentations; it really felt like those who attended in-person were there to learn and engage."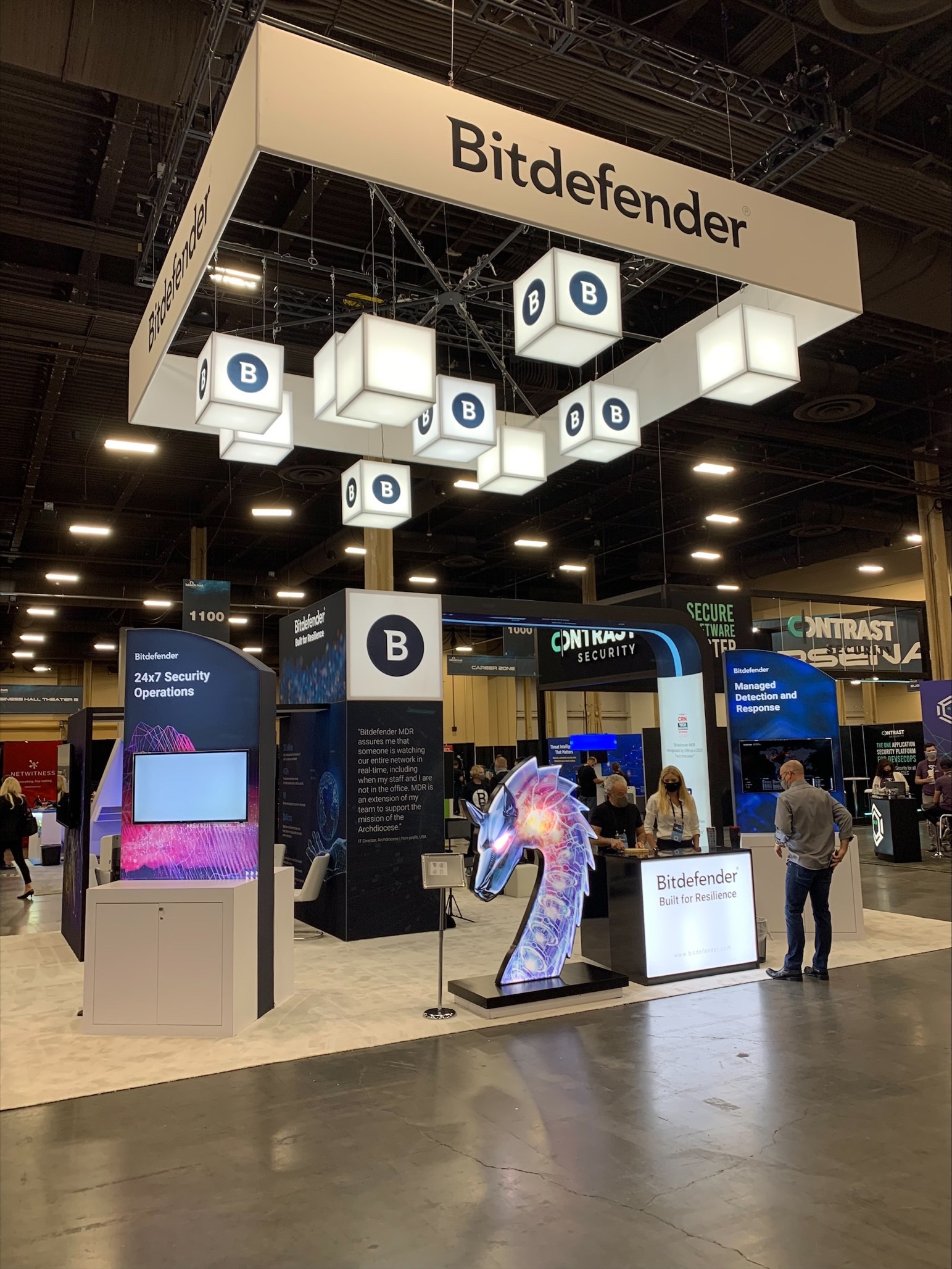 Ransomware, 24×7 security coverage, and keeping up with evolving threats were key topics
Ransomware and Managed Detection and Response (MDR) were the topics that drove most visitors to engage with Bitdefender. Attendees asked questions like, "How do I manage security around the clock for my business?" and "How do I make sure I am properly protected from ransomware attacks?" Many wanted to learn more about how to protect their business when the option of having a dedicated security staff or 24×7 protection may not currently be possible.
Access to and ways of leveraging threat intelligence were also areas of interest. We heard questions like, "How do I keep up with evolving threats?" "What are best practices to train my [security] staff for consuming threat intelligence data?"
Attendees with varying levels of expertise and objectives came to learn and solve real problems
One of the key trends we noticed was the wide range of attendee security expertise. We believe these results from an increase in small and midsized organizations with less trained security staff sending IT professionals to learn and expand their security expertise. On the other hand, we also saw many security experts with clear security objectives looking for solutions. Containers and cloud security was a topic that drew many guests to our booth to learn more about our recent announcement of GravityZone for Containers. This concept has drawn a significant amount of attention recently as more businesses continue to shift to cloud-based workloads and revisit their previous on-prem centric security solutions.
Connecting with the virtual audience
With a virtual pass, guests had access to all of the live and recorded sessions as well as demos that exhibitors provided throughout the course of the event. This content is available for 30 days after the event concluded. As in 2020, all of the trainings conducted by Black Hat are virtually available for the US, Europe and Asia.
With virtual event access, the broader community (domestic and international) and those who couldn't travel due to security restrictions were still able to actively participate in the conference. Such a level of interaction allowed us to reach customers in their homes and businesses – conveniently, where our solutions help them the most.
The future of Black Hat and the cybersecurity industry
While events in some parts of the world through 2021 and into 2022 are uncertain regarding their format, Black Hat 2021 certainly provided both the opportunity for connecting virtually and the advantages of meeting physically for more in-depth conversations. By having more time to engage with individuals on specific cybersecurity topics, we were able to identify holistic solutions that met their exact needs. This white-glove approach not only speaks to the level of service we strive to implement with our customers, but also reflects our day-to-day interactions.