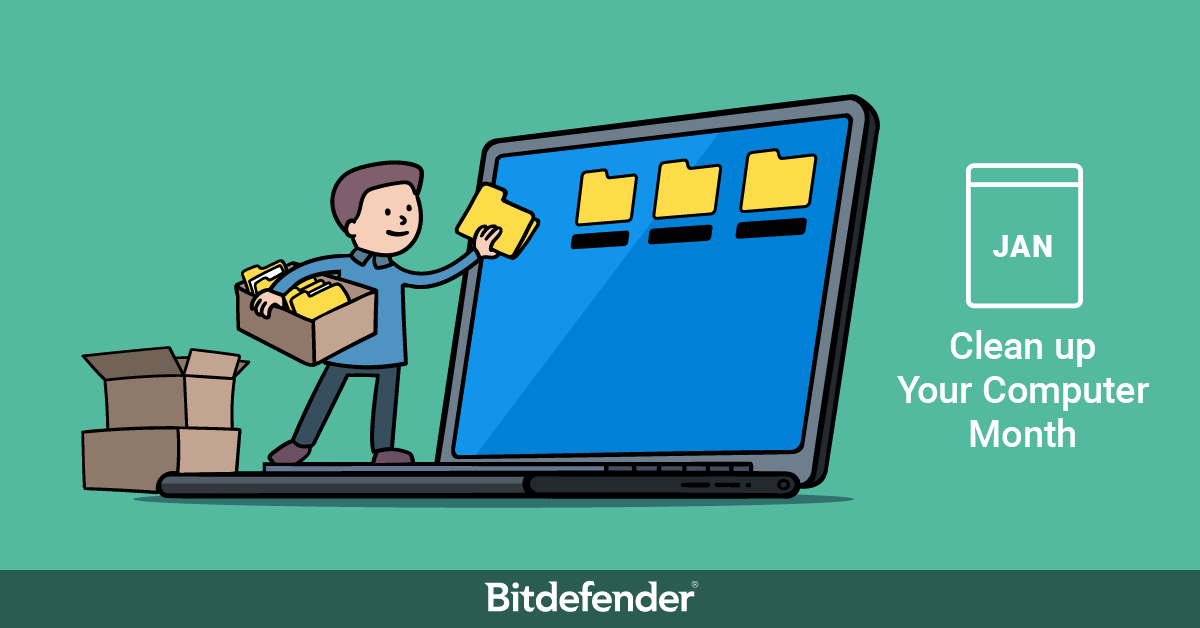 January is National Clean Up Your Computer Month! There's no better way to celebrate than giving a makeover to this important tool that supports both your professional and personal life. Here are six tips from Bitdefender to get your computer off to a productive 2022:
Back up your data
Regularly backing up your data is an efficient way to recover files if your device crashes, gets compromised by malware or is stolen. An external hard drive or USB offers an easy and portable way to do it. However, you can always consider a cloud backup service to keep important files and prevent data loss.
Organize your documents
Your desktop probably needs some TLC. If you're having a hard time perusing dozens of icons on your desktop, it might be time to declutter your desktop. That unorganized mess can slow down your computer, and there is no guarantee that a backup program will automatically back up all the files you've stored this way unless you make particular changes to the settings.
Make sure all your files and documents are named appropriately to help you find them more quickly.
Prevent unnecessary programs from automatically running
A slow PC boot-up is very irritating. If your computer suffers periodical slowdowns on startup, you might have too many programs and services trying to run once your operating system loads. To improve overall performance, disable unnecessary applications from running on startup. You can also Google any unknown application names before removing them from the boot-up process.
Give your machine a thorough cleanup
Deleting unused or unwanted files and programs is another efficient way to increase your disk space and PC performance. Do a bit of recon before removing files from your device to make sure you aren't deleting an important document or app. If an app or file no longer fits your needs, remove it. Removing unneeded photos and videos (including duplicates) is also a great way to create additional space on your drive. While you're at it, take this opportunity to organize them into meaningful and searchable groups, and always check your recycle bin – it also needs emptying regularly.
Bitdefender's File Shredder tool can help you quickly remove unwanted files and folders from your computer, making sure they won't leave traces behind on your Windows machine.
Browsing or installing apps on your device often leaves traces of temporary files, unwanted cookies, history files or unwanted registry entries that clutter your disk space. Use Bitdefender OneClick Optimizer to get rid of that annoying buildup on your Windows machine to enhance the performance and speed of your device. The tool lets you clear and junk files, unused shortcuts and browser cookies in one easy step.
Of course, always make sure that the outside and inside of your machine are clean. Turn off the device and give it some careful dusting.
Pro Tip: Give your digital accounts a thorough scrub too
While you're cleaning your machine, it's a good idea to organize your online presence too. Start with your email accounts. Review your messages, delete old emails and unsubscribe from email lists from brands that no longer interest you. But don't stop here. Update your social media accounts with the necessary security settings, delete any unflattering pictures, and review your friends' lists, making sure to set up the appropriate privacy settings as well.
To learn more about your online presence, try Bitdefender's Digital Identity Protection service to manage your digital footprint. You get real-time data breach notifications to help you learn about the information you knowingly and unknowingly left behind online, with one-click action items that allow you to shut down any weak points that may put your identity and finances at risk.
Make sure no malicious software is running on your device
A security solution should be running on your device at all times to ensure that your computer and data remain safe. In honor of National Clean Up Your Computer Month, perform a full system scan using Bitdefender Total Security for free with our extended 90-day trial. You can check for any pesky malware, Trojans or spyware and provide full protection against attempts to hijack your device and data.