IT systems worldwide said to be affected
Business, already suffering during pandemic, now has a cyber attack to contend with
Norwegian shipping and cruise line Hurtigruten has revealed it is the latest maritime firm to suffer at the hands of cybercriminals, following a crippling ransomware attack that it sustained on Monday leaving some of its systems down around the world.
Prospective travellers visiting the company's website are currently met with a terse message: "Sorry, the website isn't working right now"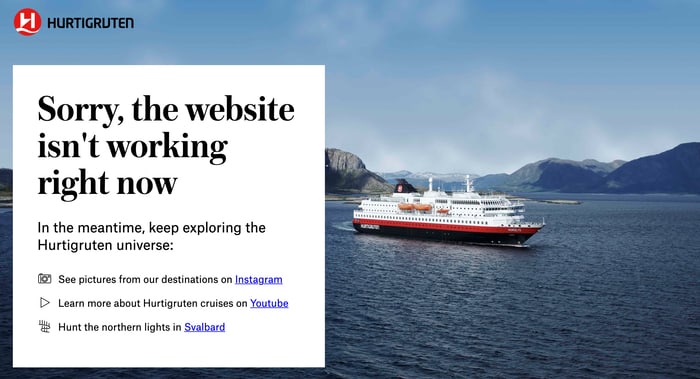 The company's IT chief, Ole-Marius Moe-Helgesen, described the incident as "a serious attack" gainst its global IT infrastructure, according to a report by Reuters.
It's not been a good year for Hurtigruten, as the global pandemic has understandably impacted its business activities, forcing it to suspend its cruise operations and laying off hundreds of employees.
No details have been shared of the strain of ransomware which has hit the firm, but in the very best scenario it will be juggling whether to pay its extortionists a handsome fee in order to have its data decrypted or attempt to restore its systems from its own backups.
In the worst case it may also be facing the possibility that its attacks have exfiltrated sensitive data and are threatening to release it publicly if a ransom is not paid in a timely fashion, potentially damaging Hurtigruten's image further and its relationships with customers and partners.
Clearly the cruise line is not feeling entirely despondent, however. Hurtigruten has told the Oslo Stock Exchange in a statement that it does not "expect a material financial effect from the cyber attack."