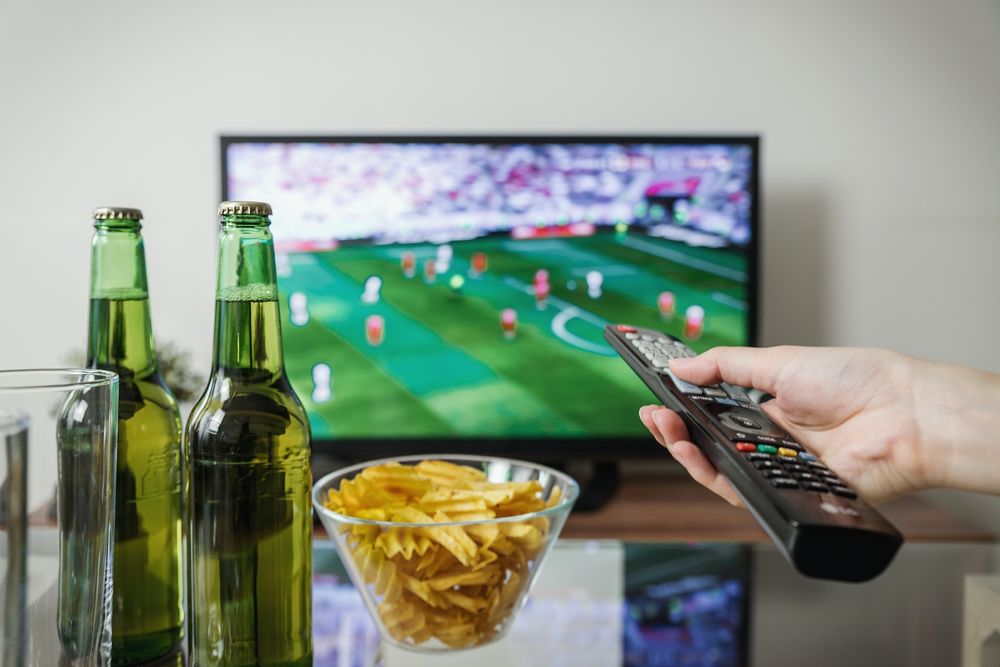 The 2022 World Cup kicked off on Nov 20 in Qatar. As billions of football fans from across the globe root for teams competing from 32 nations for FIFA's prestigious World Cup trophy, scammers and fraudsters seek to cash in on the distraction, according to Bitdefender Antispam Lab.
While World Cup 2022 email scams have been circulating since at least April this year, Bitdefender researchers have spotted new spam campaigns targeting sports fans this week, including the all-too-familiar lottery and giveaway scams.
Congratulations! You've won $2.5 million
In one variation of the email scams, spammers impersonate the International Football Association, enticing recipients to submit personally identifiable information to receive $2.5 million following a bogus lottery draw held on Aug 25.
The lucky recipients are asked to reply with their name, address, marital status, age, nationality, country of residence, occupation, phone number and ID card to have their winnings 'released'.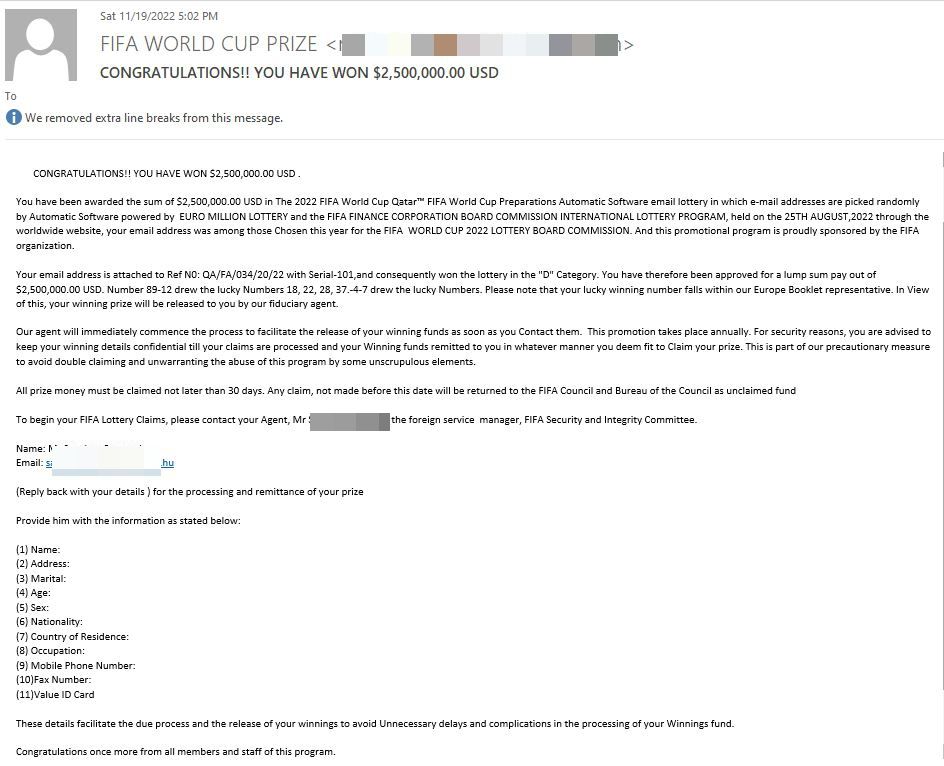 In other variants of the scam, the criminals impersonate Google and Visa. Similarly, users are required to send personal data to a Gmail address to claim a prize.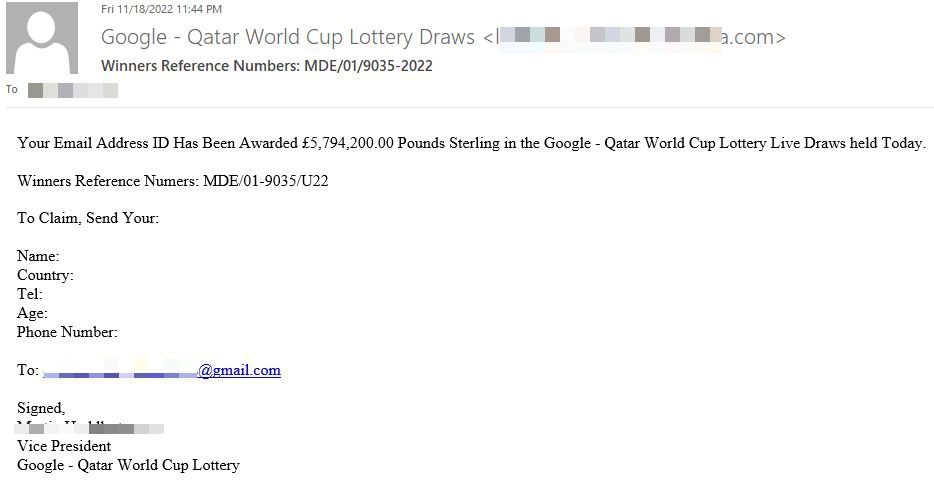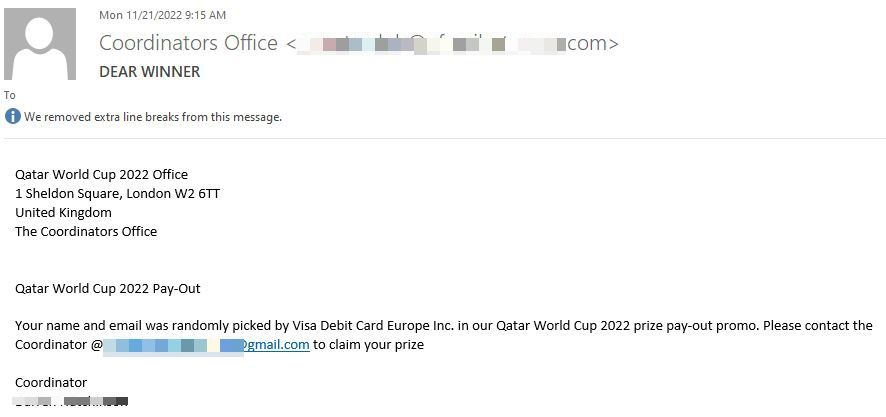 Most of these lottery scams will have you share and confirm personal info, or transfer money for bogus processing fees. Of course, like most of these decade-old scams, users won't receive any winnings. Instead of gaining a fortune, users risk becoming victims of identity theft crimes.
Phishing for Microsoft login credentials
Cybercrooks are also using the famous sports event to steal Microsoft login credentials from unsuspecting fans. In the example below, scammers impersonating the DHL delivery service claim that recipients have an undelivered package from FIFA waiting to be picked up at one of the company's offices.
Users are asked to submit the correct delivery address by accessing an embedded link.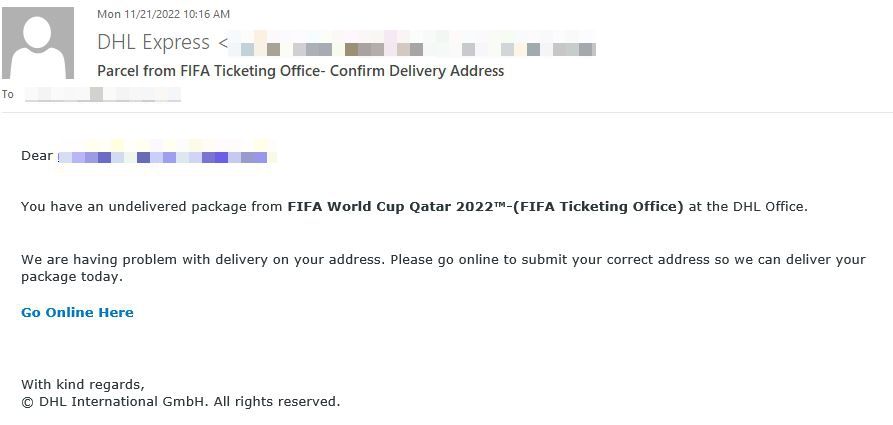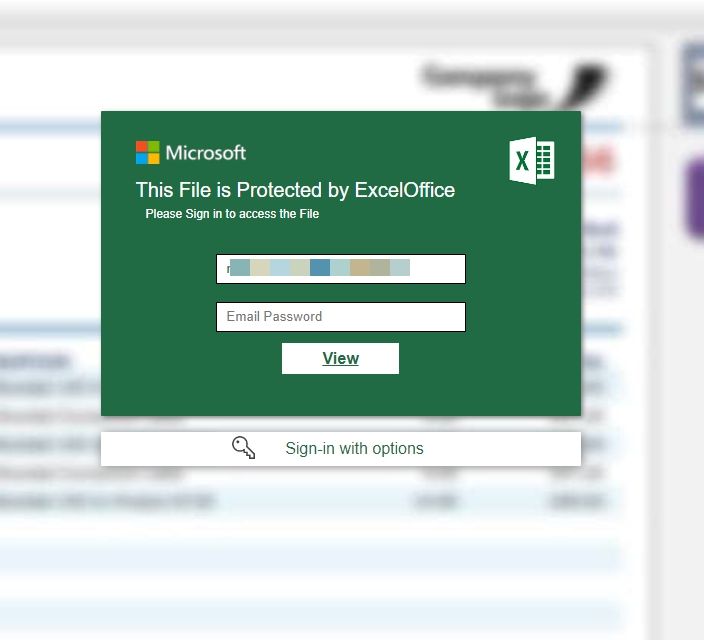 How can you avoid falling victim to FIFA World Cup swindles
To avoid falling victim to World Cup 2022 scams, remain vigilant against unsolicited emails, messages or texts regarding the football tournament. Carefully examine the contents for red flags including:
Poor grammar and spelling
Demands for upfront payments or requests for personal info
Spam messages that announce you've won a large cash prize in an unknown lottery even though you never bought tickets
Suspicious links and attachments that ask you to update your info or verify your login credentials
Every day, fraudsters and cybercriminals exploit world events to steal money and data from internet users. To protect your digital self and fend off all kinds of online threats, use a comprehensive security solution on all your household devices.
Bitdefender all-in-one security suites offer just that: award-winning antimalware protection alongside digital privacy tools, such as a VPN and a cross-platform Password Manager.
Based on your location and chosen plan, users can also benefit from comprehensive identity theft protection (for US only), including:
Credit monitoring and 24/7 monitoring your financial accounts and personal information
Non-stop alerts in case of fraud and suspicious activity on financial accounts
Instant credit inquiry alerts to stop fraudsters before they can open new lines of credit in your name
Dedicated access to identity theft restoration professionals
Identity theft coverage for financial losses and expenses due to identity theft of up to $2 million, depending on your chosen plan
Lost wallet assistance and an easy way to place a credit freeze
Data breach and social media identity monitoring