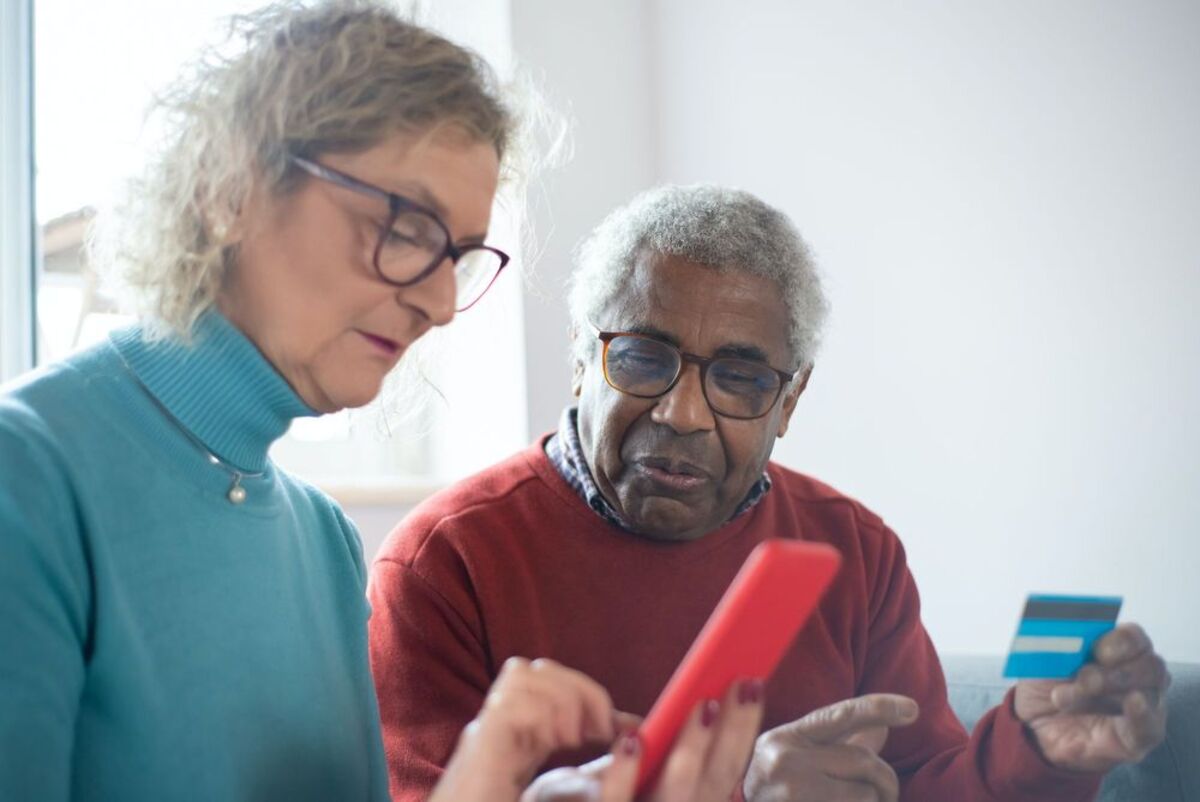 Scams and identity theft can hit anyone, but falling victim to fraud is especially painful for seniors who are counting on their retirement accounts.
Fraudsters tend to become very creative when targeting pension accounts. That's one of the reasons that seniors over 60 years old are the most common victims of identity theft
You (or your parent) could, for example, receive a phone call or an email asking you to transfer your pension to either non-existent or non-genuine schemes that seem excellent offers.
Or, they might offer you cash incentives to gain early access to your pension benefits – referring to them as a pension loan. But these so-called opportunities often turn out to be a scam and leave you with significant losses and serious tax implications.
Another opportunity arises for scammers if your personal information is leaked in a breach you don't know about. Cybercriminals steal your digital identity to impersonate you and gain access to your account.
Pension scams can take many forms. You could lose some, if not all, of your pension savings, or end up with a large tax bill (you can face high charges if you withdraw your pension savings early).
Find out how to spot, avoid and protect your hard-earned money against pension scams.
"K" and "J," a suburban Chicago couple, lost $40,000 to a thief who impersonated his way into their retirement account, changed crucial contact details in the account, and siphoned out two separate $20,000 withdrawals.
K and J say they were only alerted to the theft by Chase Bank, which sent J three account statements in late 2020. "Chase bank sent me three zero balance statements- and I'm saying, I don't have an account there," J told NBC5 Responds.
K and J say they soon learned the money that was deposited at Chase in J's name came from their joint account. As they unraveled the theft, the couple learned a thief impersonating J had somehow entered their account online and changed one of their main contact details: a phone number.
Scammers target seniors around the world
US
Financial scams targeting older adults are costly, widespread and on the rise. According to the Federal Bureau of Investigation (FBI), 92,371 older people fell victim to fraud in 2021, resulting in $1.7 billion in losses. This was a 74% increase in losses compared to 2020.
FBI's Elder Fraud Report 2020 shows that California had more victims over 60 than any other state, with 12,534 complaints. The second highest was Florida with 9.252 victims and third was Texas, at 6,342. The highest losses were in California, with people over 60 losing more than $152 million.
UK
Pension scam victims lose an average of £51,000, according to the Financial Conduct Authority (FCA) and The Pensions Regulator. A total of £2,241,774 has been reportedly lost to pension scammers since the start of 2021 (January 2021-May 2021). The average loss this year was £50,949, according to complaints filed with Action Fraud. That's more than double last year's average of £23,689.
Scammers target pension pots big and small, with reported losses ranging from under £1,000 to as much as £500,000.
France:
Through its investigations and data collected from the French banking networks, the Autorité des Marchés Financier (AMF) has attempted to establish the profile of victims of financial scams for all products combined.
The over-50 age group accounts for more than 65% of victims and 81% of all money lost, and the 60-69 age bracket is the most heavily impacted.
While pensioners are most affected (48.2% of the amounts invested), all socio-professional categories are concerned;
The whole of France is affected: the Provence Alpes Cotes d'Azur region is the leading region affected by scams (17.3% of the amounts invested), followed by Auvergne-Rhône-Alpes, Occitanie, and then the Ile-de-France region.
Canada:
Fraud is the No. 1 crime against older Canadians. In 2021, 67,815 Canadians fell victim to financial fraud, losing more than $380 million, according to the Canadian Anti-Fraud Center.
How get thieves into retirement accounts?
Retirement accounts are very attractive to fraudsters as they typically have more money. Most people rarely check their retirement accounts or set up notifications/alerts for them. This allows hackers to even make regular withdrawals from these accounts over time, keeping them low in scale until an account owner eventually notices the theft.
To get into your retirement account, a thief needs as little as the credentials for one of your email accounts. The valuable information in an inbox often leads a thief to other holdings. For example, they can see emails from banks and other accounts, showing them where other funds are likely located.
Personally identifiable information (PII) stolen in data breaches is usually posted on the Dark Web or sold, and cyber thieves can use it for their crimes.
1 in 3 breach victims suffers identity theft Breaches including
sensitive PII: 80% Top 2021 data exposed: Name: 96% (97% in 2020) Date
of Birth: 60% (49% in 2020) Medical History: 48% (22% in 2020) Home
Address: 39% (54% in 2020) Full SSN: 33% (41% in 2020) – Sontiq data.
The likely impact of a data breach on you
Whenever someone finds out your personal information, you run the risk of getting ripped off.
A thief could:
Empty your retirement, savings, or day-to-day account.
Open new credit cards or other lines of credit in your name
Make unauthorized purchases using your cards
File a tax return using your Social Security number
Access your medical records, benefit from your insurance, obtain care, medical treatments, or prescriptions in your name
The results can be devastating:
You could lose your savings and retirement money
You could receive bills for services you didn't receive
You could end up paying loans you didn't take and be denied your own in the future
Loss of privacy and damage to reputation.
Is your retirement account at risk? Self-assessment tool (Yes / No)
A key to protecting your money is tracking and monitoring where your personal information – Social Security number, date of birth, address, phone number, email addresses, etc. — is on the Internet.
Assess your risk of exposure by being aware of all the places this data went. Here are some questions to help you with that:
[ ] You receive phones, text messages, and emails about your pension, higher returns, or unlocking cash from it.
[ ] You filled in a form or responded to an email for a free pension review.
[ ] You were a victim of a data breach
[ ] Your bank or credit card statement or statements or bills include erroneous charges for unknown accounts
[ ] You receive notifications of applications not initiated by you
[ ] You store your money information (insurance, bank statements) on your computer or mobile device
[ ] You store a digital copy of your documents (passports, driving license, SSN) on your phone or laptop or shared copies in emails.
[ ] You have the same password for at least two email accounts.
[ ] You haven't set up notifications/ alerts for activities for all your bank accounts.
[ ] You rarely check your retirement account.
The more "yes" answers you have, the more likely your personal information is public and can be accessed by fraudsters.
What you can you do to protect your personal information:
Sticking to good security practices is free, and it pays off:
Monitor your credit card and bank account statements monthly. Even if you are not using the accounts, check the statements to ensure that cyber criminals are not opening accounts in your name.
Be suspicious about cold calling or unsolicited contact by phone, email, online or post.
Fraudsters may claim to be authorized by your local financial authority or impersonate firms or government schemes to try and persuade you to transfer your pension. Remember, government schemes never directly approach you about your retirement. Check who you're dealing with.
Never respond to requests seeking to confirm sensitive information such as passwords, payment information, PIN, or offers of 'one-off investments, 'time-limited offers', 'upfront cash incentives, 'free pension reviews', 'legal loopholes' or 'government initiatives.
Use unique, strong passwords and enable two-factor authentication on accounts
Beware of official-looking websites encouraging you to fill in your details. This is a trick scammers use to get around the pension cold calling ban.
Delete as many old, unused accounts as you can. The more sites that have your data, the more chances of getting it exposed.
Find out now if your data has been breached with our Digital Identity Protection solution.
Digital Identity Protection is the result of our expertise and knowledge from 20 years of providing award-winning security to customers around the world.
You can check for free if your email address and the accounts linked to it have been compromised.
With DIP, you:
Discover what the Internet already knows about you
Find out if you were part of a breach
Get control over your data by knowing what you do if it leaks or how to prevent it
What to do when money is stolen from your bank account
If money has been taken from your bank account without permission, there are certain steps you should take:
Contact your bank or card provider to alert them and freeze your cards/ accounts. You could be liable for all money lost before you report it.
If you've been targeted, even if you're not a victim, you can report it to Anti Fraud authorities in your country.
All fraud and scams should be reported, even if you are embarrassed or feel the amount of money is too small to worry about. While you might not be able to get your money back, you can help stop the con artist from scamming other people.
Europe:
How can a Bitdefender Digital Identity Protection subscription help with your online privacy?
Bitdefender Digital Identity Protection continuously monitors your personal information and alerts you in real-time in case of a data breach. This way, you can change your passwords and secure your accounts to prevent financial loss or social media impersonation.
Find out now with Bitdefender's Digital Identity Protection. With our dedicated privacy tool, you can:
· Discover the extent of your digital footprint
· Find your personal information online, in legal and illegal collections of data
· Benefit from 24/7 data breach monitoring for up to five email addresses
· Get instant alerts to new breaches and privacy threats
· Detect social media impersonators who can ruin your reputation
US
How can Bitdefender Identity Theft Protection help you?
When you want to protect your data and the money in your accounts, get insurance for potential losses and damages caused by identity theft.
We combined advanced detection technology, real-time alerts, 24/7 US-based support, and identity recovery in a unique solution. It monitors your SSN, email address and phone numbers in places where they should not be listed (including the Dark Web) and alerts you to any changes in your address, court records in your name, and payday loans taken out in your name.
Monitors and detects. Continuous monitoring of your medical accounts, identity, privacy and credit.
Gives you Real-Time Alerts. When your information is at risk, you are rapidly notified.
Recover & reimburse. If you fall victim to identity theft, you have the support of our #1-rated experts, and our insurance ranges from $1 million to $2 million, including reimbursement of stolen funds.
Don't wait until it's too late. Start protecting your digital identity today!