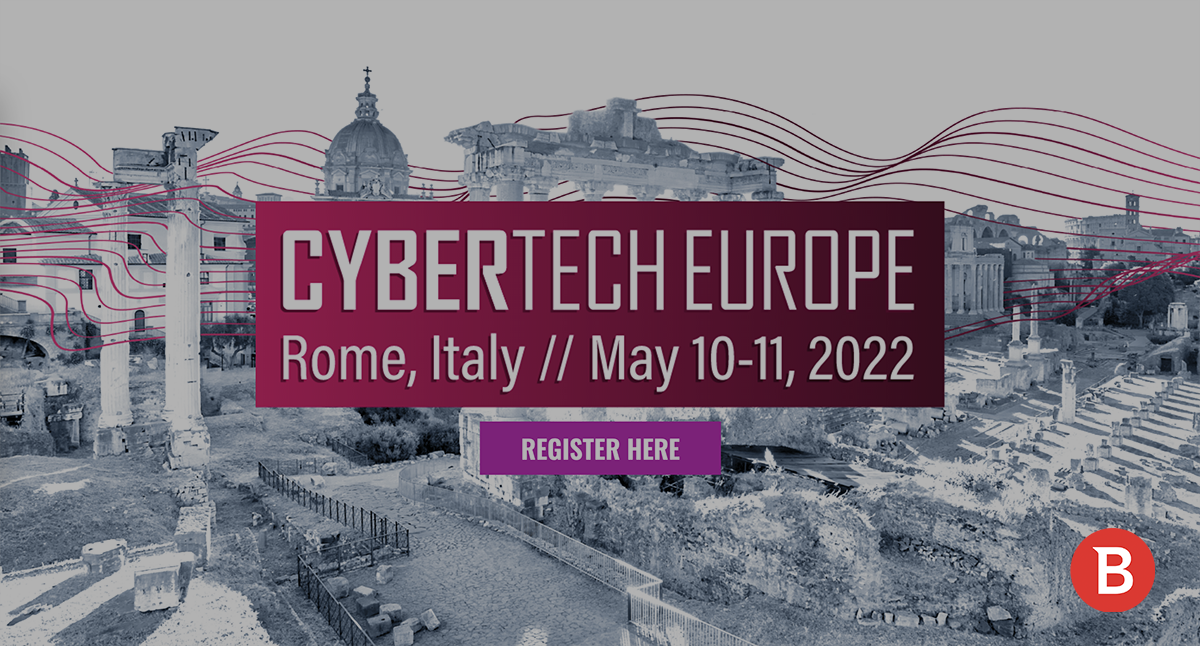 The enterprise cybersecurity landscape has changed dramatically in recent years.
The COVID-19 pandemic spurred a rapid, global shift to remote and hybrid work, accelerating digital transformation initiatives and the widespread adoption of cloud technologies. With the attack surface greatly expanded, cybercriminals ramped up their activities and supply chain and ransomware threats surged during the past two years.
Cybersecurity professionals are facing this rapidly evolving threat landscape while also grappling with a shortage of skilled security staff. For these reasons, it's more important than ever for the cybersecurity community to come together at industry events to share ideas, learn about the latest techniques and innovative technologies, discuss common challenges, and propose solutions. That is also why we're eager to share that Bitdefender will be participating in the CyberTech Europe conference taking place in Rome, Italy, May 10 – 11, 2022.
What to expect at CyberTech Europe 2022
The CyberTech conferences serve as a global dialogue on threats and solutions affecting the cybersecurity community. The event will provide opportunities for participants to hear from prominent industry experts on topics such as active defense, Zero Trust, collaborative law enforcement and cybersecurity education, while also exploring next-generation technologies.
We encourage cybersecurity professionals to register to attend CyberTech Europe and visit the Bitdefender booth to experience our award-winning cybersecurity solutions and learn from educational presentations on topics related to Extended Detection and Response (XDR), Endpoint Detection and Response (EDR), Cloud Security, Managed Detection and Response (MDR), and the latest threat intelligence.
Additionally, Bitdefender's Dan Pitman, Director of Product and Technical Marketing, will be participating in a panel discussion in the Cloud Security track taking place on May 10. Dan will join with other industry leaders to share valuable insights and expertise on topics such as Securing the Remote Workplace, Serverless Architecture Challenges, DevSecOps and Security Automation, Zero Trust, and more.
Pre-book a meeting with Bitdefender at CyberTech Europe here.
Bitdefender's recommendations on cloud security and zero trust
To learn more about how cloud security trends are affecting businesses, and to get a preview of the topics that will be discussed at CyberTech Europe, we spoke with Dan Pitman for a brief Q&A:
Cloud Security is going to be a main topic at the CyberTech conference. What do cybersecurity professionals need to know when it comes to cloud security and how it differs from traditional, on-premises cybersecurity?

There are a few significant considerations security professionals should be aware of when aiming to secure their cloud workloads and cloud environments. First, the cloud is not a datacenter and cloud security should not be approached the same as datacenter security. Clouds are systems with remote access capabilities and the power for users to implement processes and operations on their own. This can bring significant business benefits, but it can also introduce additional security risks that must be managed.

Second, the complexity of cloud should not be ignored. Organizations with multiple public and private clouds in their environment face a proportional increase in both complexity and risk. Data breach research has shown that multi-cloud environments are at significantly higher risk than those operating on a single cloud provider's platform. Each cloud provider requires a different approach, set of expertise and security requirements – and security professionals need the right strategies and tools to properly manage them all.

Lastly, when it comes to cloud technologies, security teams must ensure that strong security and cyber resiliency are built into every stage of the delivery lifecycle. It is critical for organizations to focus on the security of configurations AND the security of the run-time. A purist DevOps approach might suggest that we can secure at "build time," but the reality is that very few organizations have reached the ideal state of a completely immutable and Zero Trust environment that is required for peace of mind.

We will likely also hear a lot about Zero Trust at the conference. How should organizations approach Zero Trust in the cloud?

"Zero Trust" is in danger of becoming a buzzword that threatens to lose meaning. The concept of Zero Trust is undoubtably an important one, but arguably not new. Similar concepts such as the principle of least privilege access and least knowledge services and systems have been a common-sense approach to security for a long time.

If organizations want to overhaul their architecture and security to strengthen their Zero Trust approach, it will likely have a negative impact on their business operations and ability to service customers. Instead of rushing to jump on the latest security buzzword, security teams should look to create a more practical, long-term roadmap with their end goals clearly mapped out. Zero Trust should arguably be reviewed and implemented as part of a larger Enterprise Architecture approach within an organization.

What would you like the CyberTech audience to take away from your panel discussion?

I'd like to raise the point that, as a whole, the security community still needs to work to forge closer collaboration with DevOps teams, without becoming a hinderance to business transformation. When we look at DevSecOps there are many parallels between the goals and requirements of these groups. Security teams must take a pragmatic, risk-based approach to work towards a more integrated way of collaborating across technology delivery.

Most importantly, I am very much looking forward to meeting a diverse set of people at CyberTech Europe 2022 and discussing their unique challenges in securing their businesses. This is a landmark European technology event and after two years of not being able to meet in person for events, it is going to be fantastic to be engaging with the community again.
Pre-book a meeting with Bitdefender at CyberTech Europe here.
Learn more about Bitdefender Endpoint Protection, Extended Detection and Response, and other solutions being demoed at CyberTech Europe here.