Get up to speed on the key dynamics of the 2020 cyberthreat landscape, including ransomware, phishing and vulnerabilities
Explore the long-term impact of WFH on your cybersecurity posture
Understand key security measures that will strengthen your employee devices
Engage in conversation with our leading cybersecurity experts and guest speakers
Cybersecurity vendors do more than build security solution. We share a common responsibility to the market. The lesser-known side of the cybersecurity industry is its push towards the safety of the international community: collaboration with international law enforcement agencies, creating free tools to counter large-scale outbreaks such as ransomware decryptors, and most importantly, monitoring market trends and sharing findings to inform organizations of threats and trends.
This year, cybersecurity awareness is more important than ever. Bitdefender calls on you this October to raise awareness among your peers about key security concerns in 2020, as part of international efforts in this year's cybersecurity awareness month.
Welcome To International Cybersecurity Awareness Month
Education is key to security. Bitdefender's experts are coming together to support the International Cybersecurity Awareness Month with a series of webinars, interviews and courses that will help you plan your security strategy for 2021.
Discover the results of our year-long research into malware, phishing, vulnerabilities, misconfiguration risks and IoT. See what trends our senior researchers have observed from threat intelligence gathered from over 500 million sensors worldwide. Learn what indicators show hackers took advantage of the confusion caused by the sudden WFH transition.
Join our experts this month, discuss the significant changes that we are facing and ensure you devise an effective 2021 cyberthreat strategy to fit the 'new normal' in cybersecurity:
WEBINAR – The New State of Cybersecurity. 2020 Threat Landscape Overview
Be the first to gain the overview of the 2020 thread landscape. To support Cybersecurity Awareness Month, Bitdefender is releasing its yearly business threat landscape review early this year and will share its results as part of a live webinar of October 29th. Our session will be joined by other industry experts soon to be announced and will include a 15 min Q&A session to enable you to engage with presenters directly.
WEBINAR – What Is The Darknet and Why I Should Care
Educate yourself on the intricacies of the dark web and gain an understanding of how the underground malware industry works from Bitdefender's Chief Security Strategist, by joining our live webinar on October 13th.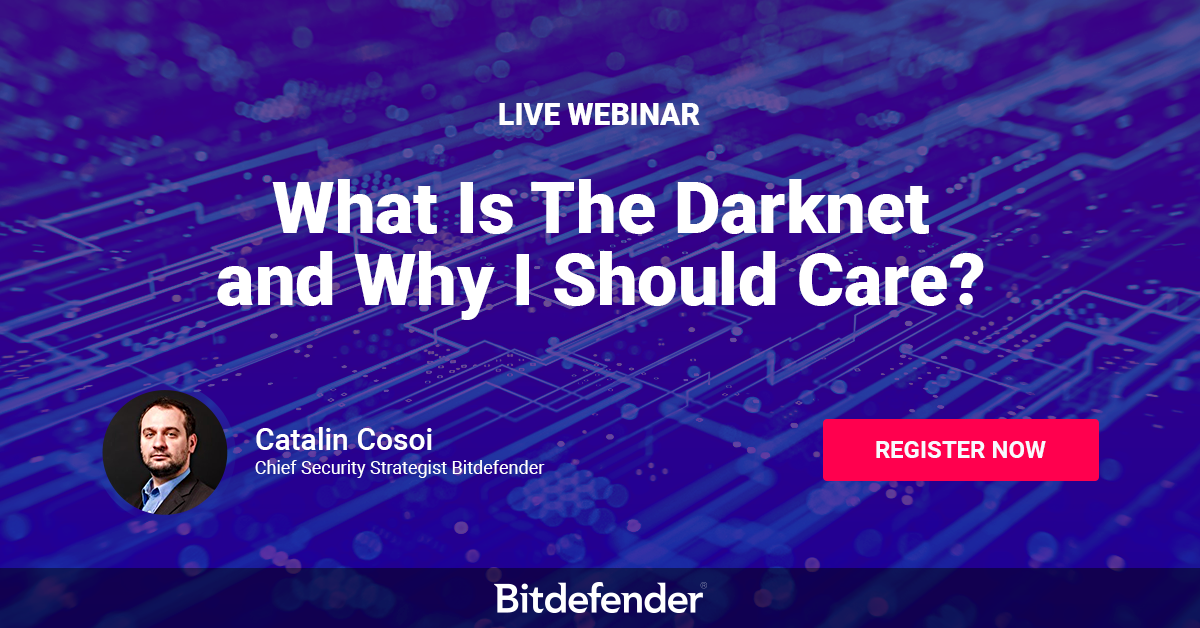 INTERVIEW SERIES – Think WFH first! Reprioritize security technologies to fit the new normal
Watch our expert interview series to understand how to optimize your security budget for 2021 and what key technologies you should invest in to reduce the exposure of your remote devices. Learn tips and tricks shared by our VP of Sales Engineers, our VP of Global Services and Support and our founder of MDR service at Bitdefender.
Available starting Oct 14
SHORT COURSES – The rise of APT as a Service | Learn how to use MITRE ATT&CK
Expand your knowledge around advanced attacks. Learn all about MITRE's ATT&CK Framework and how to leverage it in threat hunting from Bitdefender's Director of Cyber Threat Intelligence, or learn more about the rise of APT as a Service and how it exposed SMBs to the threat of APTs.
Available starting Oct 26
What is The International Cybersecurity Awareness Month and why does it matter?
October marks International Cybersecurity Awareness Month, celebrated in Europe as the European Cybersecurity Awareness Month (ECSM) by ENISA, and in the United States, as the National Cybersecurity Awareness Month (NCSM) by Cybersecurity and Infrastructure Security Agency (CISA). It's a time for the cybersecurity community to stir conversation that can empower users and organisations to be aware of the risks and take action to protect themselves.
Knowledge raises your organization's abilities in the fight against cybercrime. As we continue to transition to a new normal, use October to plan your the security of your business for 2021.