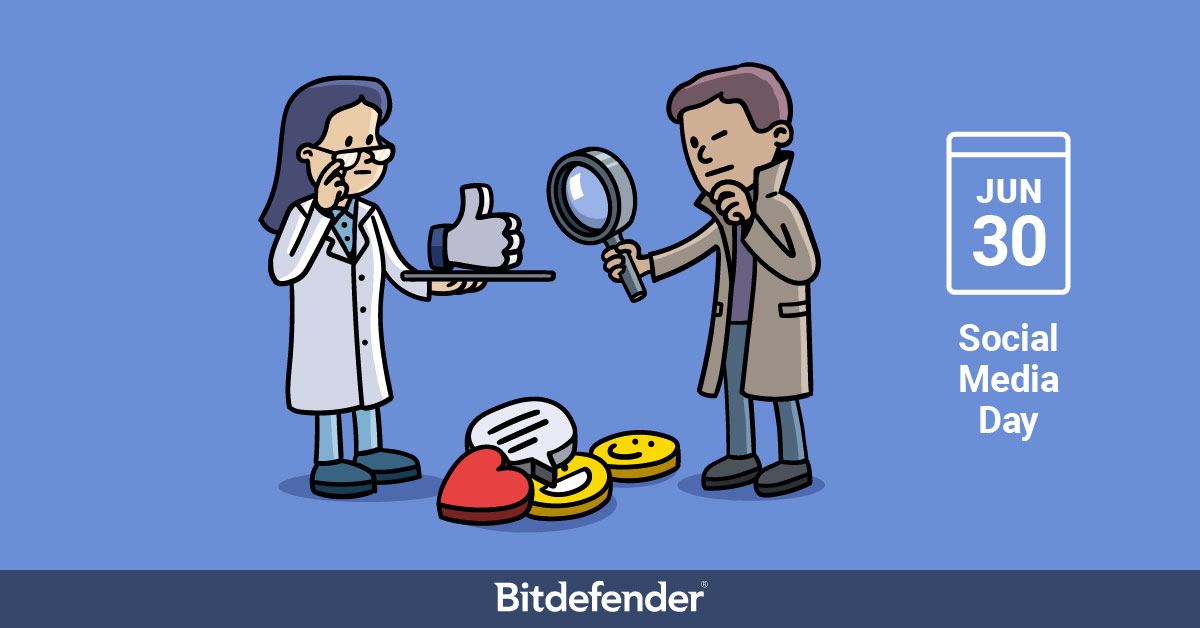 Over the past decade, social media use has soared, and over 4.5 billion active users today can instantly connect with family and friends, do business, shop, work and find entertainment.
June 30 marks World Social Media Day – a global event highlighting the positive impact of social media on linking individuals from across the world and ensuring uninterrupted communication.
Although the positives of social media seem to outshine the negatives seen throughout its digital ecosystem, the popularity of online communities attracts digital miscreants who exploit users' behaviors for their own malicious goals.
Popular platforms including Facebook, Twitter, LinkedIn and Instagram are no strangers to social engineering attacks, impostors, data-mining scandals, and data breaches that threaten the privacy of millions of users every day. However, the list of threats doesn't end here. Social media platforms are ripe with criminal activity, including scams, identity theft, stalking and bullying that can be extremely costly for your financial and mental wellbeing.
On this 12th celebratory World Social Media Day, we here at Bitdefender propose ways you and your family can stay safe and continue to enjoy the benefits of social networking platforms.
Here's our top list of social networking safety tips to keep in mind when using or signing up to new online communities:
Manage your privacy – take time to review the privacy and security settings on all of your social media platforms. Each platform has different settings to help you control who can see, react or comment on the content you share
Be mindful of your online reputation – all of your interactions on social media leave a digital footprint that could harm the way others perceive you online. To protect your online reputation and help ensure success in your career or education, think twice before posting distasteful material
Protect your personal information – don't give out too much personal information on social media websites. Threat actors can use your phone number, email address, date of birth, and other pieces of info to target you. The more information you post, the easier it becomes for data thieves, fraudsters or stalkers to harm you
Use strong passwords and enable two-factor authentication – this tip should be a given for all your online accounts. Use unique passwords for each social media platform and never use personal identifiers when setting it up. You can opt for a dedicated password manager to help you create and store passwords that meet the highest security standards.
Use a security solution on your device – your privacy and security on social media begin with a secure device. Whether you are using a smartphone, tablet or PC, a security solution can protect against malicious attacks and block phishing and scams that target you or your data on social media
Report suspicious users and behavior – always report threatening behavior, scam posts or individuals to the social media platform and law enforcement. If you are feeling harassed or threatened, immediately block malicious individuals and keep a copy of the correspondence
Be wary of unsolicited correspondence and too-good-to-be-true ads – social media is all about sharing and communicating. Links you receive via instant messaging can be part of a phishing campaign or try to scam you. To protect your data and money, scrutinize all forms of unsolicited communication via social media platforms and apps, especially if they come from strangers
Are you a social media user struggling to remember all the accounts you created over the years and want to know the extent of your digital footprint? With Bitdefender Digital Identity Protection, you can easily find old accounts linked to up to 5 email addresses and get a 360 view of your digital footprint and data exposure. Our dedicated privacy tool lets you assess your individual privacy risk and sniff out social media impersonators, and it helps you manage your data and privacy settings on popular social media sites such as Facebook, LinkedIn and Twitter, so you don't get caught in the intricate settings of each platform.
With real-time data breach monitoring and alerts, you can immediately secure and protect your social media presence by taking the necessary measure whenever your personal data is at risk.
Read more about our identity protection and privacy solutions here.