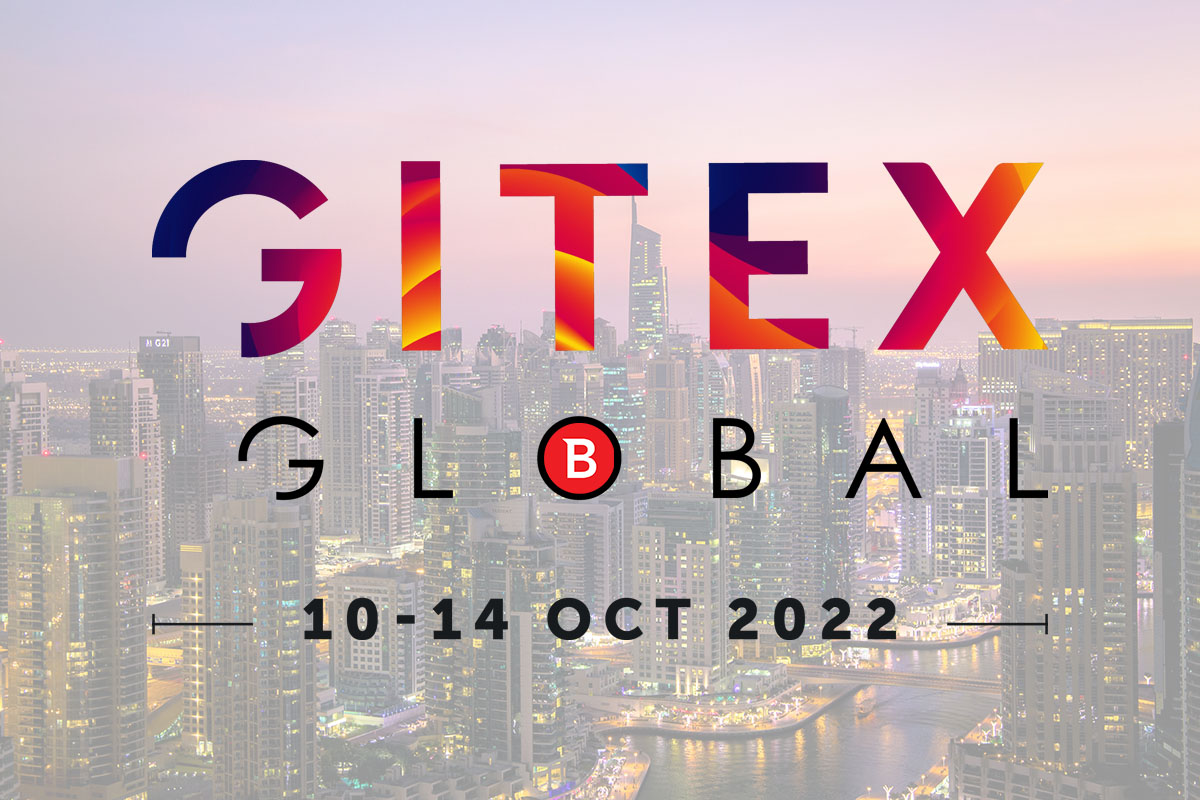 As THE undisputed tech event for more than 40 years, GITEX GLOBAL, taking place October 10 – 14, 2022 in Dubai, features every major technology player and attracts over 150,000 attendees from 170+ countries. The event combines seven conferences in one, bringing together experts and technology leaders from around the world to discuss the latest trends and innovations in sectors such as cybersecurity, smart cities, the data economy, mobility, healthcare and telecoms. Attendees get access to hard-hitting talks and engaging business and technical workshops across 14 different conference verticals.
One of the main features of GITEX GLOBAL is the cybersecurity conference. According to the World Economic Forum Global Cybersecurity outlook, 87% of top executives are planning to improve cyber resilience at their organization. GITEX GLOBAL is where executives, developers, researchers and other cybersecurity experts come together to discover the latest technologies and solutions for combatting advanced threats and building cyber resilience.
Visit Bitdefender at GITEX GLOBAL booth #H1B25
Bitdefender will be at GITEX GLOBAL with a team of product experts, security analysts from our managed detection and response (MDR) service, and researchers from Bitdefender Labs. Visit Bitdefender at booth #H1B25 to what makes our advanced threat prevention, detection and response technologies an industry leader. The Bitdefender team will present on a range of topics, including:
Extended detection and response (XDR) — What it is, how it goes beyond endpoint detection and response (EDR) to protect an organization's entire ecosystem, including network, endpoint, email, identity, and cloud.
Managing the known and unknown – How organizations can leverage Bitdefender Advanced Threat Intelligence to gain contextual, real-time intelligence into the global threat landscape.
Putting the "X" in MDR – How XDR can enhance and strengthen MDR services.
We will also be holding booth sessions on topics such as:
Top 5 ransomware myths and misconceptions – Mahmoud El Masry, Sales Engineer
Unboxing Security for Linux and Containers – Mihai Barpascu, Senior Solutions Architect
The latest TLA, XDR, OK? – Mihai Barpascu, Senior Solutions Architect
Be sure to also check out our Xlabs session on the Gitex stage October 12th from 11-12 – Level Up the Cyber Resilience of Your Organization with Mihai Barpascu, Senior Solutions Architect. In this presentation, we will share some of the latest intelligence from Bitdefender's security experts and hear what cyber resilience is all about.
We'll also provide live demonstrations of GravityZone XDRin action, as well as demos of our industry-leading threat prevention, detection and response platform and managed security solutions.
Book a meeting with Bitdefender at GITEX GLOBAL
Stop by the Bitdefender booth at GITEX GLOBAL to discuss your organization's security needs, or request a meeting in advance.