Far-right service allegedly breached via SQL injection vulnerability More than 40 million posts, messages, profiles, and hashed passwords compromised Gab, the Twitter-like social networking service known for its far-right userbase, has reportedly been hacked – putting more than 40 million public and private posts, messages, as well as user profiles and hashed passwords, at risk of exposure.
The 70 GB leak of data fell into the hands of activist group Distributed Denial of Secrets (also known as DDoSecrets) – which was banned from Twitter last year after it published sensitive data stolen from US law enforcement agencies.
However, DDoSecrets says it did not exfiltrate the data itself but received it via a hacker called "JaXpArO."
DDoSecrets claims that the compromised data – which it has dubbed "GabLeaks" – is "an important sociological resource. In 2021, it's also a record of the culture and the exact statements surrounding not only an increase in extremist views and actions, but an attempted coup."
Recognising the sensitive nature of the contents of private messages (some of which contains personal identifiable information) and the presence of passwords, DDoSecrets says the data is "currently only being offered to journalists and researchers."
The first media outlet to gain access to the data was Wired, to whom DDoSecrets cofounder Emma Best described the haul as "another gold mine of research for people looking at militias, neo-Nazis, the far right, QAnon and everything surrounding January 6."
As you would imagine, Gab is not terribly happy with the news.
In a blog post, Gab CEO Andrew Torba acknowledged that there had been a SQL injection security vulnerability on the Gab website, which they claimed to have patched last month.
However, Torba initially downplayed the seriousness of the alleged data breach at Gab, preferring to shoot the messenger instead:
"Today we received an inquiry from reporters about an alleged data breach. We have searched high and low for chatter on the breach on the Internet and can find nothing. We can only presume the reporters, who write for a publication that has written many hit pieces on Gab in the past, are in direct contact with the hacker and are essentially assisting the hacker in his efforts to smear our business and hurt you, our users."
Later, Torba shared that the hashed passwords for his and Donald Trump's accounts had been compromised, describing those who attacked the site as "mentally ill tranny demon hackers":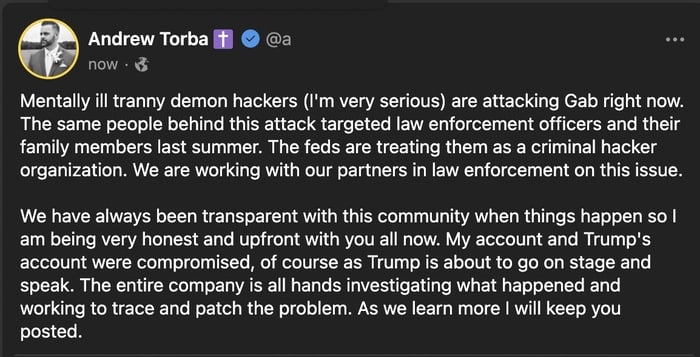 If a vulnerability existed that would allow one hacker to exfiltrate sensitive data from a site like Gab, then that same vulnerability could have been exploited by others.
JaXpArO and DDoSecrets may or may not have plans to exploit the compromised data maliciously, but it's not possible to say with any certainty that anyone else who might have exploited the security hole will feel the same way.
With Gab acting as something of a haven for neo-Nazis, white supremacists, and QAnon conspiracy theorists expelled from other social networking sites, there is a very real possibility that they might continue to be a target for hackers in the future.