Cybercriminals are trying to capitalize on the news of Apple's latest iPhone release to steal data and money from unsuspecting victims.
Earlier this week, Bitdefender researchers spotted a giveaway scam leveraging the anticipation of Apple's newest smartphone models.
Apple's iPhone 13 release date for all four models is Sept. 24, with pre-orders available as early as Sept. 17 in the UK and US.
The email says:
"Congratulations! You are the lucky online winner of a brand new Sweepstakes iPhone 13 entry! You have been chosen to participate in our Loyalty Program for FREE! It will take you only a minute to receive this fantastic prize."
Fraudsters use the name and logo of popular hypermarket store chain Walmart to gain recipients' trust and trick them into accessing a fake link to get their "reward."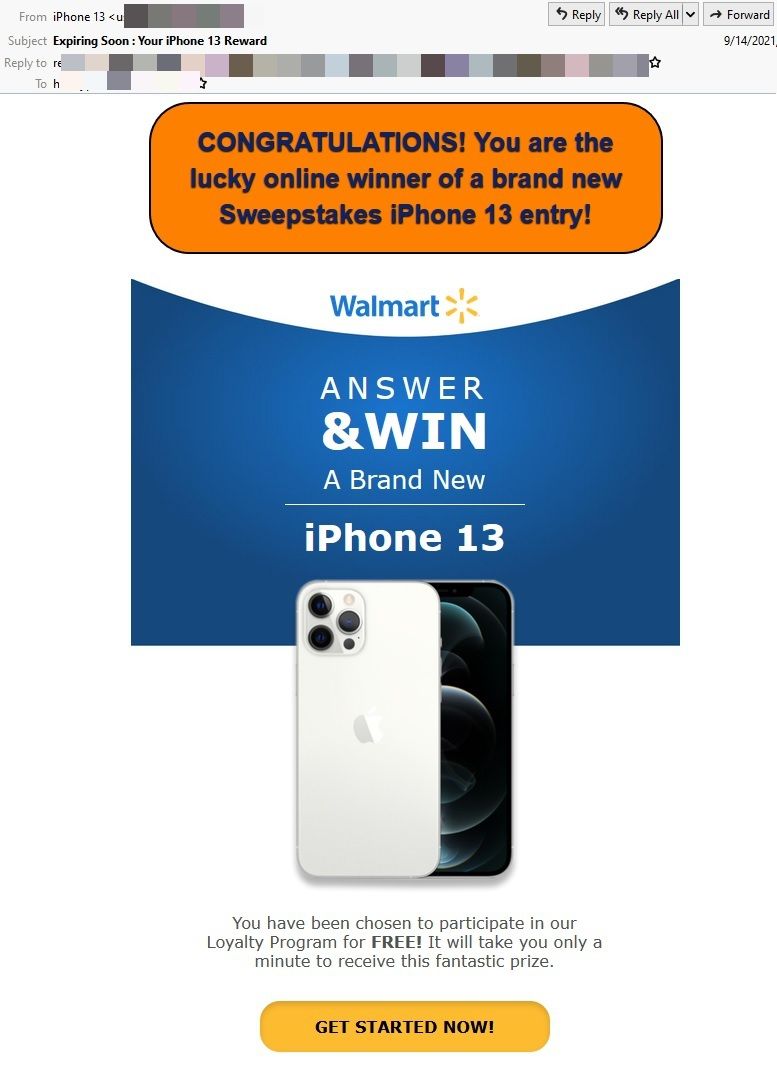 This is a classic giveaway scam, with criminals phishing for credit card details and other personal info. They claim they're used for shipping fees for the prize, in this case an iPhone 13.
Not sure if the email you received is a scam?
Sweepstakes and giveaway scams usually say that you've won a prize (you never entered a contest) or that you could win one by filling an online survey. You're generally directed to a website and asked for your details, including credit card details to pay for shipping the prize.
These scam messages are not limited to emails. They can pop up on your phone via text, ads on social media, fake websites and direct messages on online platforms.
Follow these easy steps to protect your sensitive info and avoid fraudulent activity on your accounts:
Treat giveaway and prize offers with caution
Don't respond to them or give away your password and credit card number
Don't click on online ads or websites offering free gifts
Use a security solution on your devices that alerts you whenever you access a phishing link and sniffs out malicious attempts
Remember, Walmart does not ask customers to complete online surveys in return for gift cards and prizes or sends spam emails to participate in them. Moreover, the retail giant emphasized that any legitimate Walmart receipt survey winners are notified via certified mail, not email.