Online scammers use the name of international shipping company UPS to dupe consumers into participating in a survey giveaway scam.
The scam, recently spotted by Bitdefender Antispam Lab, guarantees recipients a Sony PlayStation 5 gaming console in return for completing the online survey on behalf of UPS.
Fraudsters use traditional clickbait tactics such as "Participate before it's too late" to entice users into reading the email. The message makes it look like recipients were among the lucky winners, as they've been chosen to participate in the Loyalty Program, free of charge. "It will take you online a minute and you will receive a fantastic prize: A Brand New Sony PlayStation 5," the email reads.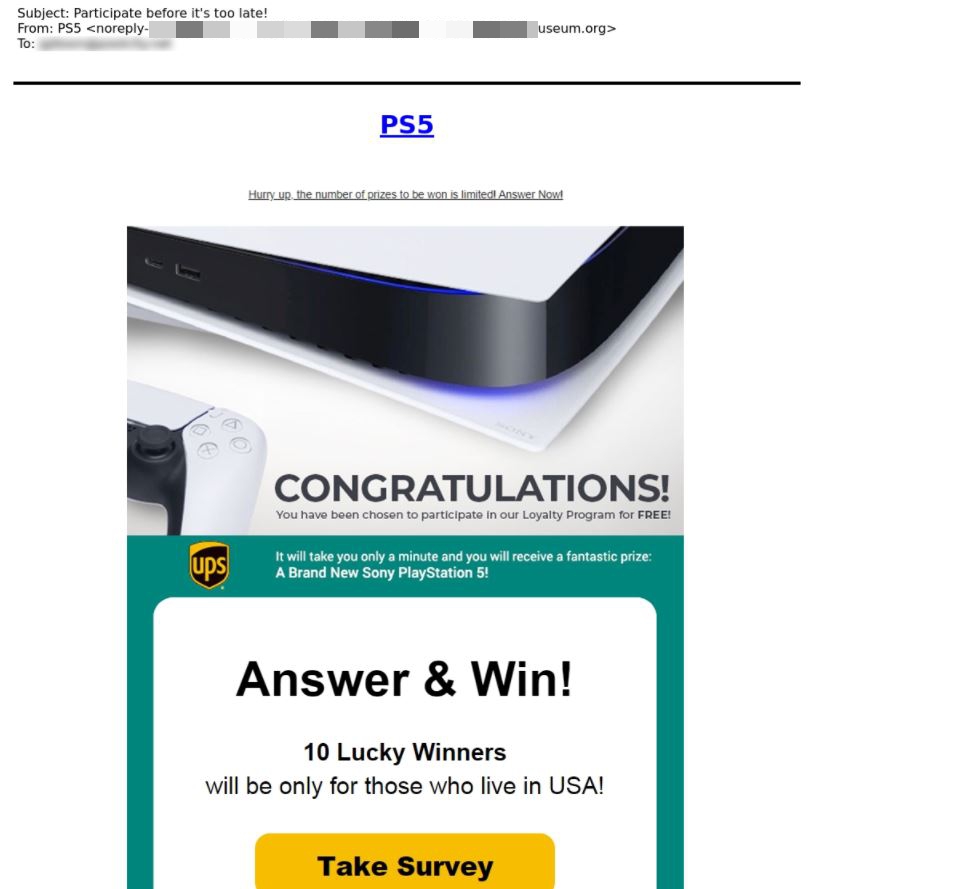 The scammers also say the giveaway only applies to US residents, and there can only be 10 lucky winners.
Online survey scams are used to scrape personally identifiable and financial information that can be used to commit identity theft. The data can also be sold to third parties and monetized by other cyber crooks.
Survey scams that guarantee a large prize such as an iPhone, or in this case, a PlayStation 5 gaming console, usually ask victims to provide their credit card information to cover "shipping costs" for the product they've won.
Tips to protect your information
Unfortunately, UPS is not participating in the giveaway business. The next time you receive a text message, email or phone call asking you to participate in a survey to win some goodies, hang up or delete the message immediately.
Additional warning signs can be noticed while filling out the so-called survey and you're asked to provide a username, Social Security number, credit card details or other sensitive data – information a legitimate survey will never ask for.
Unless you can confirm that the survey is legit, stay away from survey and giveaway promotions you receive via email.
If the body of the message has no obvious red flags, check the URL of the survey. Fraudsters may use domain spoofing to make it look like the URL you are accessing is valid, so remember to check the spelling.
There are no bulletproof methods to prevent scammers from impersonating well-known brands and businesses. Even if companies constantly monitor fraudulent activity, the adoption of preventive methods often falls on consumers.
The advanced anti-phishing protection integrated with Bitdefender solutions is designed to safeguard your device and private information, blocking suspicious websites impersonating trustworthy entities. Additionally, an anti-fraud filtering system will warn you whenever a website tries to scam you, keeping your sensitive information safe.