The Internet of Things (IoT) is a vast ecosystem encompassing many devices, ranging from critical systems to trivial hardware that doesn't actually need an Internet connection. As Bitdefender's telemetry shows, the most popular devices out there are the safest if you're using security as a differentiator when getting a new device.
IoT and security don't seem to go well together. Security researchers often find critical vulnerabilities in IoT devices, and manufacturers usually respond late. Sometimes, vendors don't even bother answering notifications or fixing vulnerabilities. It's a known problem in the industry, but not all vendors have the same attitude.
In fact, it's easy to see what are the most popular and the most vulnerable devices in people's homes, and the two categories don't really overlap. If anything, these categories have only in common that they are all IoT devices and, unfortunately, TVs.
Popular usually means safe, but not always
One perk of running the Bitdefender IoT Security Platform, available in many smart routers, is that it lets users immediately know if they have vulnerable devices in their homes. And it tells them which devices are the safest. We looked closely at what types of devices people use and what types of hardware are regularly identified as vulnerable.
Most popular smart devices

The list comprises all the devices we expect in most people's homes. But it's also compromised of devices you can identify with the IoT concept.
One of the problems that aggreavate the inherent security issues is that consumers sometimes misidentify IoT devices. Simply put, they don't realize they already live in a smart house after adopting numerous solutions for doorbells, smart cameras, fridges, and so on. Most of these devices require periodic maintenance, security updates and must be checked for end-of-life policies.
Vendors won't issue security updates for devices that reached end-of-life status, which hackers usually target. Replacing devices with EOL status is a necessary security measure in any smart home.
Most vulnerable IoT devices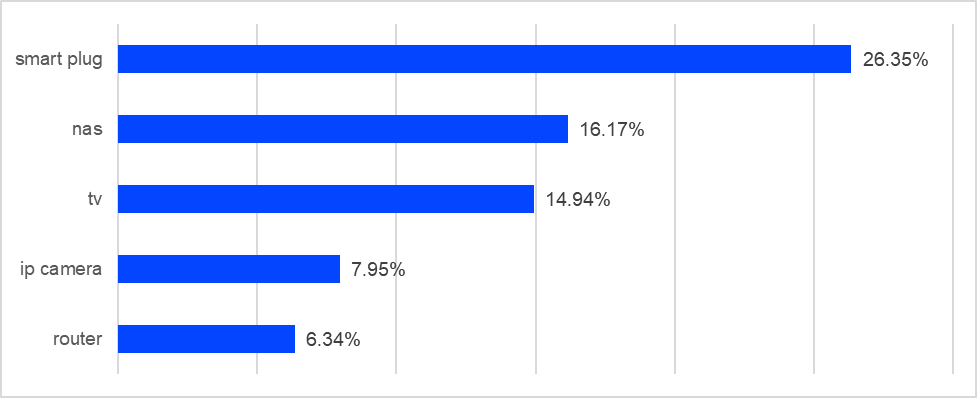 It's easy to see why these devices can be considered the most vulnerable. Interestingly, smart plugs are new to this list. Their adoption seems to have considerably increased in the past two years, but the security of these devices is usually terrible.
We're also seeing many attacks against network-attached storage devices (NAS), which people often use at home for backup. Among hackers' favorite tools is ransomware, locking the systems and blocking users' access to precious data, like family photos and videos.
Smart TVs are also somewhat problematic, mainly because they've become really powerful and run more familiar operating systems. Also, people tend to stick with their TVs for more extended periods, which means many of them reach end of life and pose severe security risks.
All of these findings, and many others, are detailed in our free-to-download report that touches on all major platforms, including Windows, macOS, iOS, Android, the IoT ecosystem and all types of online threats.