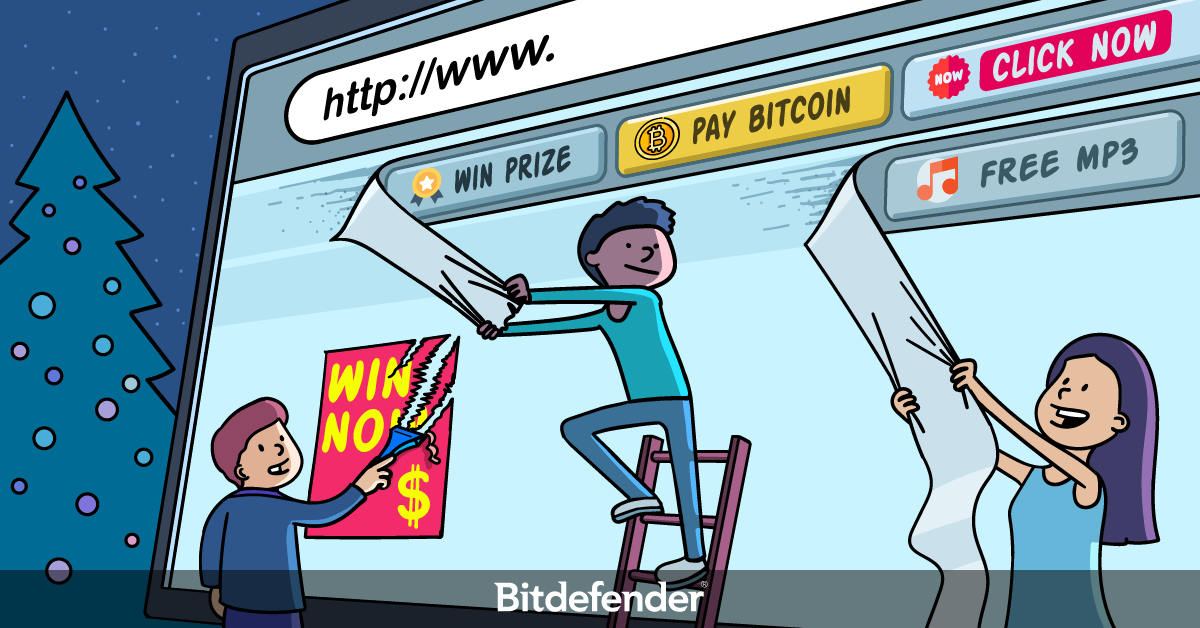 The holiday season is a good opportunity to discuss the latest developments with your loved ones, like the pandemic, politics, science and technology, music and film, and so on. It's also a good opportunity to teach your elders about cybersecurity.
From shopping, submitting tax forms and booking a doctor's appointment to watching video and listening to music, more and more stuff is done online. And it typically happens through a browser, meaning we are constantly sending our personal or financial data to the platforms we use. Therefore it's important that we browse in a secure manner. Share some of these valuable tips with your loved ones this Christmas.
Keep your browser up to date
Updating your browser is the simplest action you can take. It's also the most important. Almost every browser update brings security fixes, like Google's Chrome 94 release this week addressing vulnerabilities an attacker could exploit to take control of your computer. The same rule applies whether you're using Chrome, Mozilla Firefox or Apple's proprietary macOS browser, Safari. Keep it updated at all times to ensure the latest security fixes are applied to your browsing. An unpatched browser exposes you to fraud and malware.
'Do not track'
Modern browsers allow us to opt in and out of sites tracking us, meaning that a request will be included with your browsing traffic asking the website not to track you. Some websites may respond by no longer tailoring ads to your browsing habits. However, note that many websites will still collect and use your browsing data even with this feature on.
Sites use cookies to keep you signed in or to remember items in your shopping cart in case you accidentally close the page. They also handle preferences, such as science news versus sports news. And shopping sites use them to suggest other goods based on what you're browsing for. As you've probably already guessed, cookies also help determine which ads you see. So, depending on your privacy preferences, you might want to visit your browser settings and set customized behaviors for websites and their cookies. For example, you can specify sites that can always use cookies, sites that always clear cookies when they are closed, or sites that can never use cookies on you.
Manage site settings
Use your browser's settings pane to manage permissions like location tracking, camera and microphone access, notifications and background sync. You can also specify whether sites can send pop-ups or use redirects, whether they can show images, and more. Based on your individual security and privacy preferences, tweaking these settings can make a big difference.
Clear browsing data
It's important to visit this module from time to time, just to make sure you're not left logged into a site or service you no longer use. You can also use it to clear your search and download history, passwords and other sign-in data, autofill forms and site settings in case it's a family computer and you want your browsing sessions to remain private. Finally, clearing browsing data also frees up storage space on your computer.
Run a security checkup
Browsers today have the ability to block dangerous and deceptive content and warn you about unwanted and uncommon software. Firefox, for example, offers basic phishing and malware protection to help keep you safe online. It warns you when a page you visit has been reported as a Deceptive Site, as a source of Unwanted Software or as an Attack Site designed to harm your computer (malware). The Settings pane lets you switch these safeguards on and off. Needless to say, you should have these enabled at all times.
Chrome, the most popular web browser, goes even further. It offers a simple, convenient tool to run a safety check and protect yourself against data breaches, bad extensions, etc. The built-in Safety Check acts like a security 'scanner' similar to those found in antivirus products. Just hit the Safety Check button and Chrome checks if you have the latest security fixes, if you have any weak or compromised passwords, if you have safe browsing enabled, if any of your extensions are doing something they shouldn't be doing, and it even looks for harmful software on your device. Encourage everyone who uses Chrome to run periodic safety checks. Of course, you shouldn't rely on your browser to keep your computer safe from malware. You should let a real antivirus do that for you.
To help you get device care over with and get back to the dinner table, cyber-security experts at Bitdefender have prepared a maintenance checklist that you can download below:
Download the printable checklist here
Stay safe!