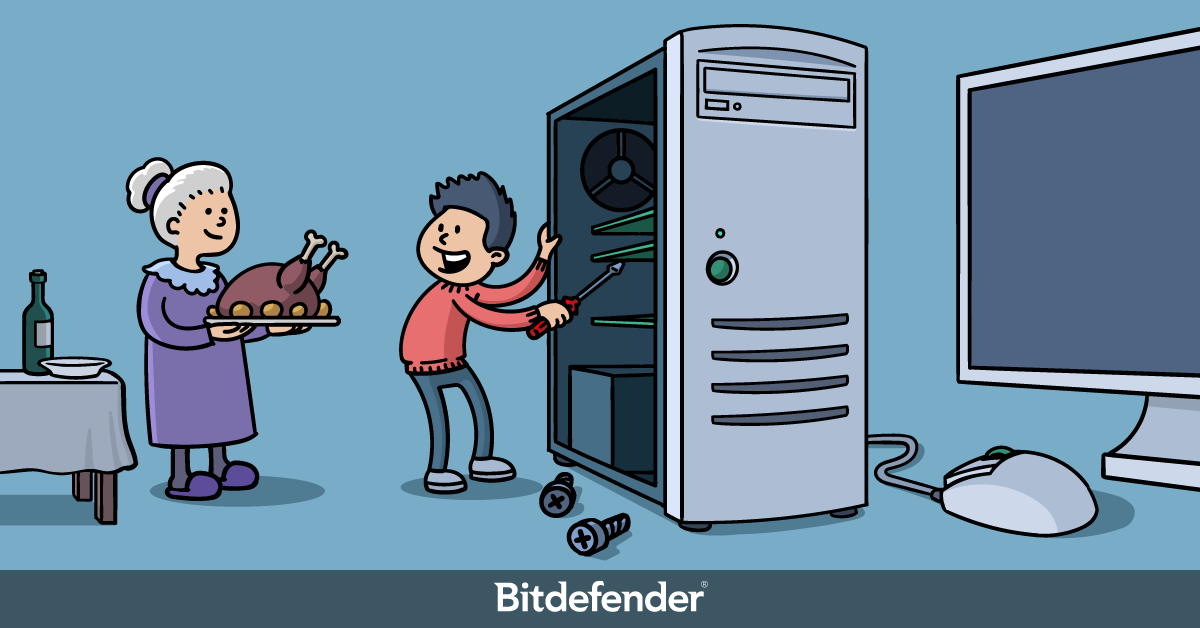 For most of the young generation, heading home for Thanksgiving – and all other family gatherings this year – also means going into tech-support mode to service the family electronics. And while some families are more tech-savvy than others, we should all be familiar with the basics of cybersecurity – especially with online scams ramping up during the Black Friday shopping frenzy.
Regardless of the operating system, certain key configurations can help you secure the family computer against common cyber threats and protect your relatives' privacy.
Enable automatic updates
Whether on Windows or macOS, security fixes typically hitch a ride on system updates to patch up existing vulnerabilities that attackers can exploit to take over a computer. Configure the family computer to install system updates automatically. This is especially recommended on Windows PCs, as bad actors typically favor this platform to carry out their deeds.
Tweak User Account Control Settings and Privacy Settings
Hit the Windows key and type User Account Control. Use the slider to adjust how to be notified about changes to the computer, essentially to prevent potentially harmful apps from making changes.
Also on Windows, hit the Windows key and type Privacy. Go to Privacy Options and make the necessary tweaks to meet your family's privacy needs. Do the same with parental controls, under Family Options.
On macOS, restrict third-party installs if they're not signed with an Apple Developer certificate. In other words, restrict the installation of apps from outside the official App Store, as they may contain malware. Go to System Preferences ->Security & Privacy and select to only allow apps from the App Store. For more flexibility, you can opt for "App Store and identified developers" if your relatives know to download software from trusted sources.
On Windows, you can get the same results by changing the account privileges from admin to standard. Go to Settings -> Accounts -> Other Users and add non-admin users as required. This ensures family members don't accidentally install rogue software or malware.
Secure the browser
Make sure the family browser is updated. Bad actors often take advantage of unpatched browsers to infect computers with malware or steal data. Limit browser extension use and validate existing plugins and extensions. Most of them have full access to page content and bad actors can use them to steal data, compromise links, deploy malware etc. It's also advisable to back the browser with a security solution that can filter search results.
Encrypt family laptops
Use Bitlocker on Windows or FileVault in macOS. Encrypting the drive itself ensures that data stays unreadable if someone tries to yank out the drive and inspect its contents (say… a naughty computer technician).
Install protection
If the family computers lack protection, now's the best time to install a best-in-class solution to defend against threats both known and new.
Bitdefender Total Security supports both Windows and macOS and offers multi-layer ransomware protection, network threat prevention, anti-phishing and anti-fraud mechanisms, microphone monitor, webcam protection, parental controls, Wi-Fi security advisor, password manager and VPN, all packaged in the most efficient anti-malware solution available today.
Bitdefender Total Security is tough on threats and light on your system. You can now get the full suite for free for three full months. Oh, did we mention it includes Android and iOS protection as well? Just download Bitdefender Mobile Security on your family's smartphones and get full protection against all types of threats, regardless of platform.
To help you get device care over with and get back to the dinner table, cyber-security experts at Bitdefender have prepared a maintenance checklist that you can download below:
Download a printable checklist here
Stay safe!