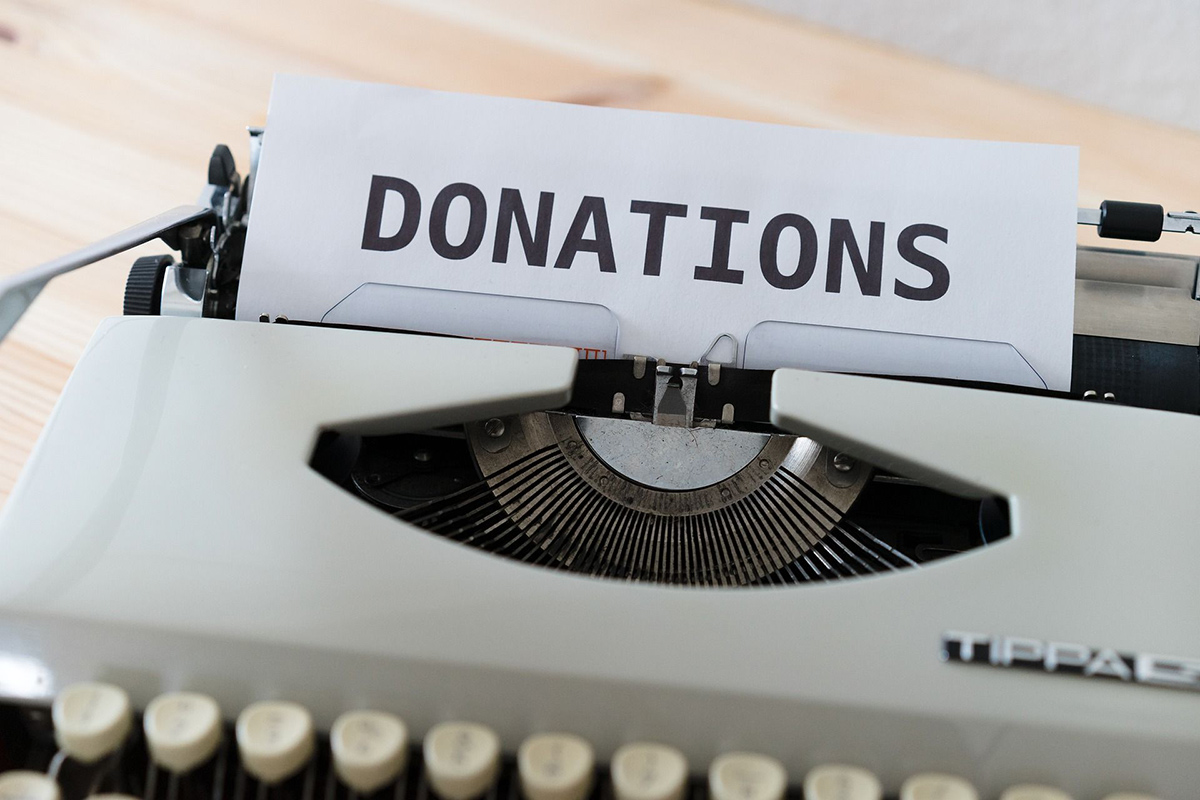 Christmas isn't just about buying gifts and decorating the Christmas tree. It marks an important time for charities and nonprofit organizations striving to make a positive impact on the lives of the less unfortunate everywhere. Sadly, December is a prime time for cybercriminals to test out their social engineering schemes to defraud consumers by exploiting their holiday habits, including your charitable spirit.
Scammers operating fake charities set up bogus websites and social media ads impersonating a well-known charity organization, or contact you directly via email or phone call.
Adding to this year's list of charity scams, Bitdefender Antispam researchers have spotted a wave of spam emails urging recipients to assist in donating millions to charities. The emails were purportedly sent on behalf of wealthy individuals who, due to a life-threatening illness, are unable to manage their fortunes.
A "Portuguese national" who needs your help to dispatch $8 million to charity organizations sent one of the sample emails. Your email address was found while "browsing" and your assistance is greatly needed in return for 20% of the funds.
"I once asked members of my family to give some money to charity organizations, they refused and kept the money," the email reads. "I have a huge cash deposit of Eighteen Million dollars with a security firm. I will want you to help me collect this deposit and dispatch it to charity organizations. You will take out 20% of these funds for your assistance."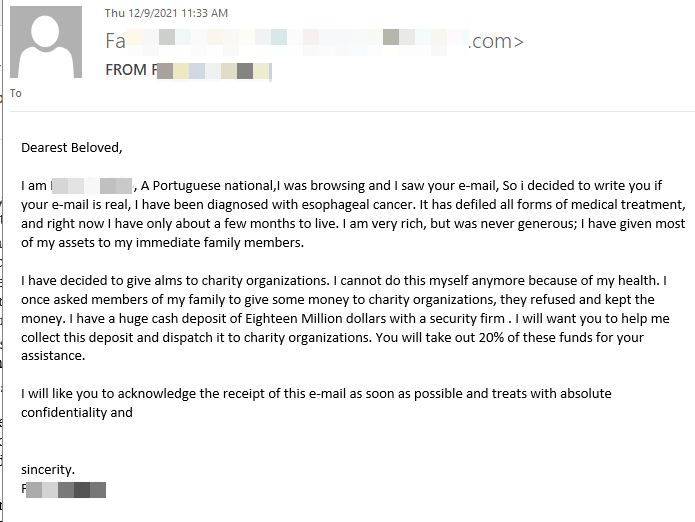 A second scam email is purportedly sent by a 72-year old woman who also wants to donate over 30 million dollars. The fraudsters worked harder on delivering a very emotional email in an attempt to dupe recipients into receiving the colossal sum.
"Actually, the reason I tried severally to reach you is because, I am willing to DONATE and change my WILL to your names to benefit this sum of USD$30.5, Thirty Million, Five Hundred Thousand dollars ($30,500,000USD), for the help of the less privileged and homeless and old age people as well as the needy in your country and other countries of your choice, of which you will be responsible in taking care of the disbursement and sharing of this money to organizations that I will appoint," the email reads."Meanwhile, you will also get 30% of the money which will amount to the sum of; Nine million, One hundred Thousand ($9,150,000USD) as your compensation for helping me in the fulfillment of this desire of donation and Godly good work to humanity."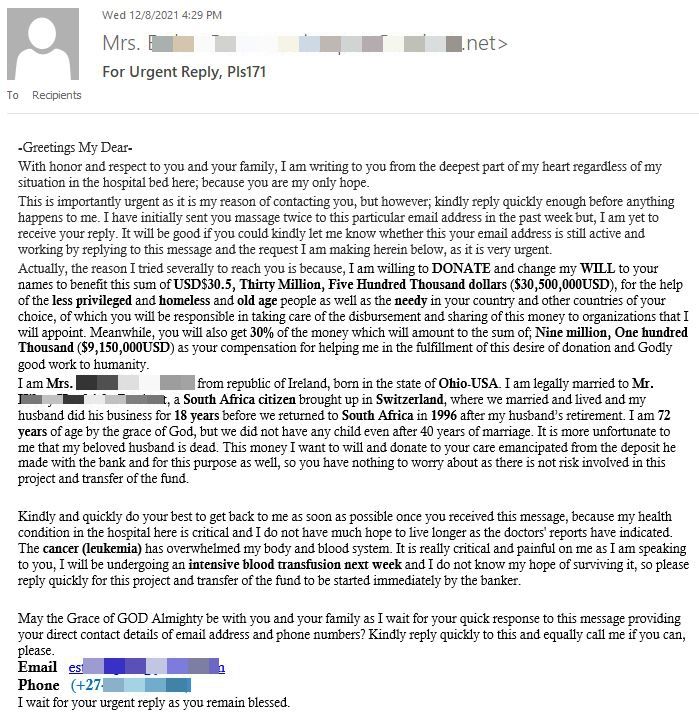 Of course, no good deed goes unpunished. In your excitement, you'll end up giving your data to the scammers who will most likely ask you to pay for the transfer fees.
If you chose to participate in this year's charitable giving season, we encourage you to go through this short guide to ensure that your donations don't end up in crooks' pockets:
Do your research. Legitimate charities are registered, so if you're not thinking of giving to a specific charity this year, research the organization online and check for any bad reviews ratings or scams linked to it
Never pay in gift cards, cryptocurrency or wire money. Charities or individuals who contact you and ask for payment using these methods don't represent legitimate organizations
Offering guaranteed sweepstakes in exchange for your donations is illegal and the first sign of a scam
Don't click on random links you see online or assume that every ad you see on social media is legitimate. If you are sure the charity is legitimate, head to the official website of the organization to make your donation
You're feeling rushed into donating. Scammers can call you and use pressure tactics or make you feel bad for not donating to their cause. If this happens, hang up the phone
Be wary of unsolicited emails you receive from wealthy individuals asking you to help them give their fortune to charities
Stay Safe!