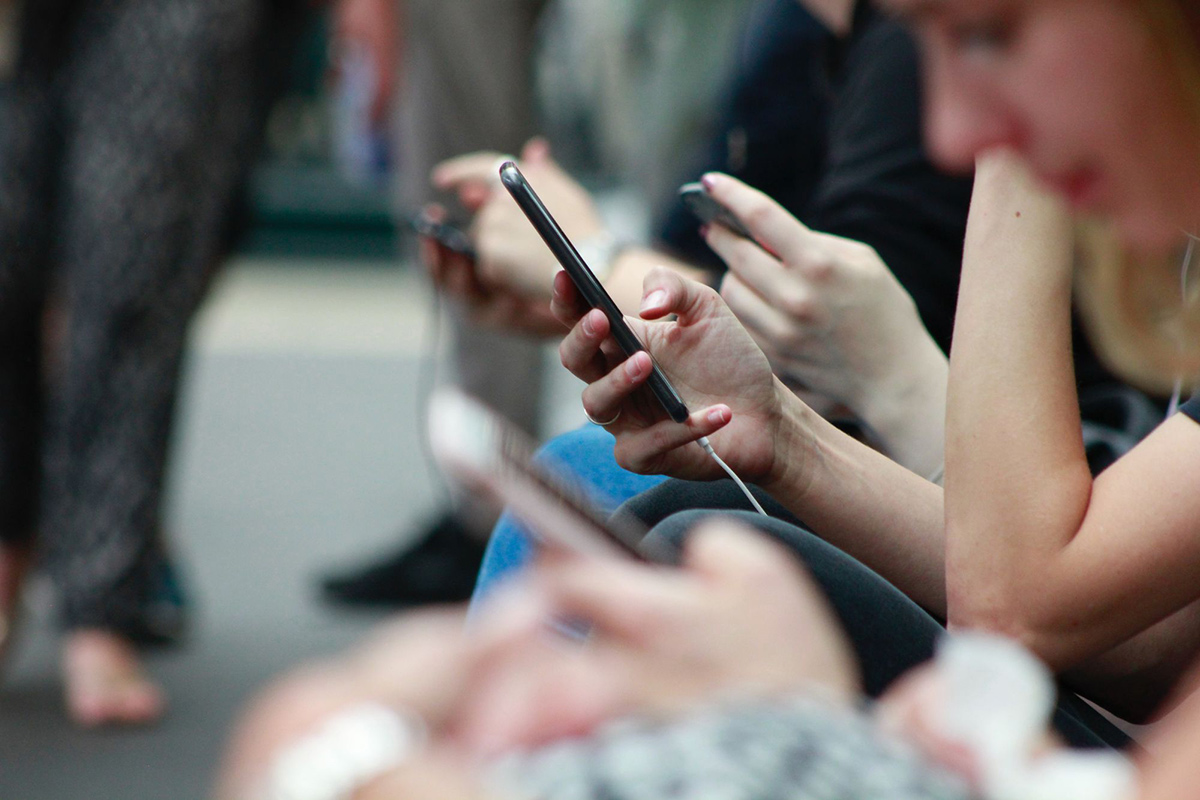 Bitdefender's 2021 Global Report​ Cybersecurity and Online Behaviors​ reveals that many people remain skeptical about using a dedicated security solution on their mobile devices. This, even though attackers target them with a variety of mobile-specific threats.
For half of Internet users, a smartphone is the device most often used for personal activities, particularly among those up to 44 years of age, our research shows.
Six in 10 consumers have suffered at least one threat in the past year, with scam messages/call scams cited by 36% and phishing by 23%.
Smartphones are just as vulnerable to social engineering attacks as computers. With smishing and call scams added into the mix, smartphones are actually the more vulnerable platform.
Malware is also a very real threat in the mobile landscape. Trojans, keyloggers, stalkerware, spyware and screen lockers regularly crop up on Android devices, through unofficial app stores or even on the more-vetted Google Play store. Apple's iOS, for its part, periodically suffers from rare but dangerous zero-day exploits that let attackers deploy spyware, like the infamous Pegasus. Apple this year has patched 17 zero-days, many of which enabled zero-click attacks, where the user doesn't even have to interact with the attacker to get infected.
15% of users have no dedicated protection on their most-used devices for personal online activities, and 30% refuse to employ a security solution on their mobile device, either phone or tablet.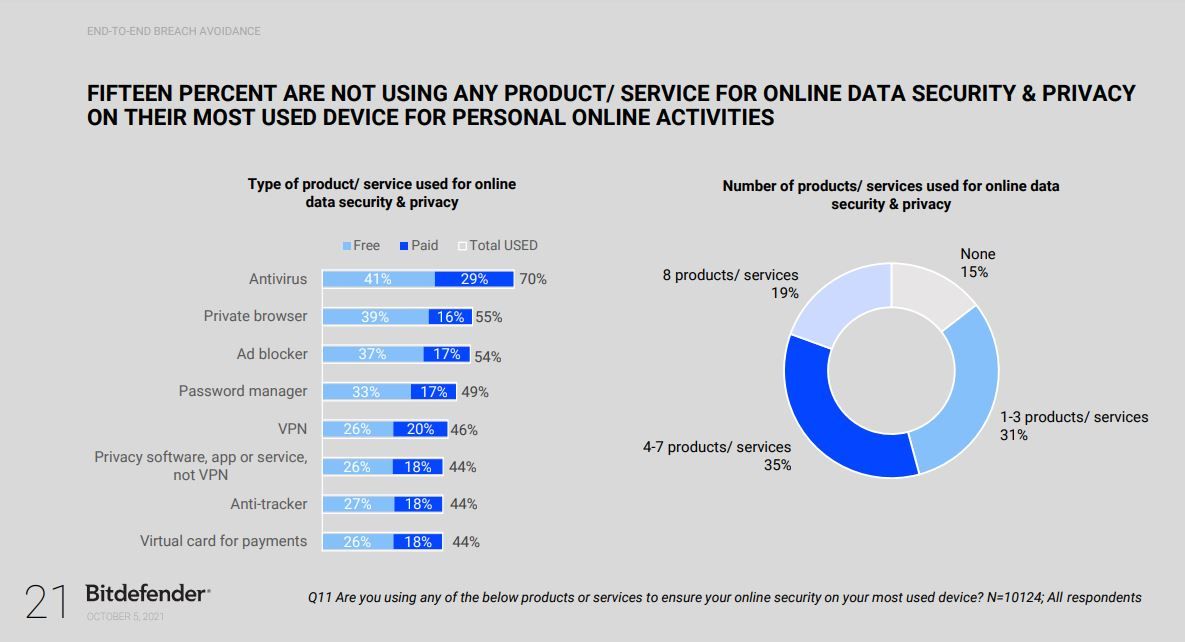 We polled more than 10,000 consumers aged 18 to 65 in 11 countries, including Australia, Denmark, France, Germany, Italy, Netherlands, Romania, Spain, Sweden, the UK and the US across various socio-demographic groups. We asked respondents to name the precise reasons behind their decision to shun dedicated mobile security defenses. Their answers: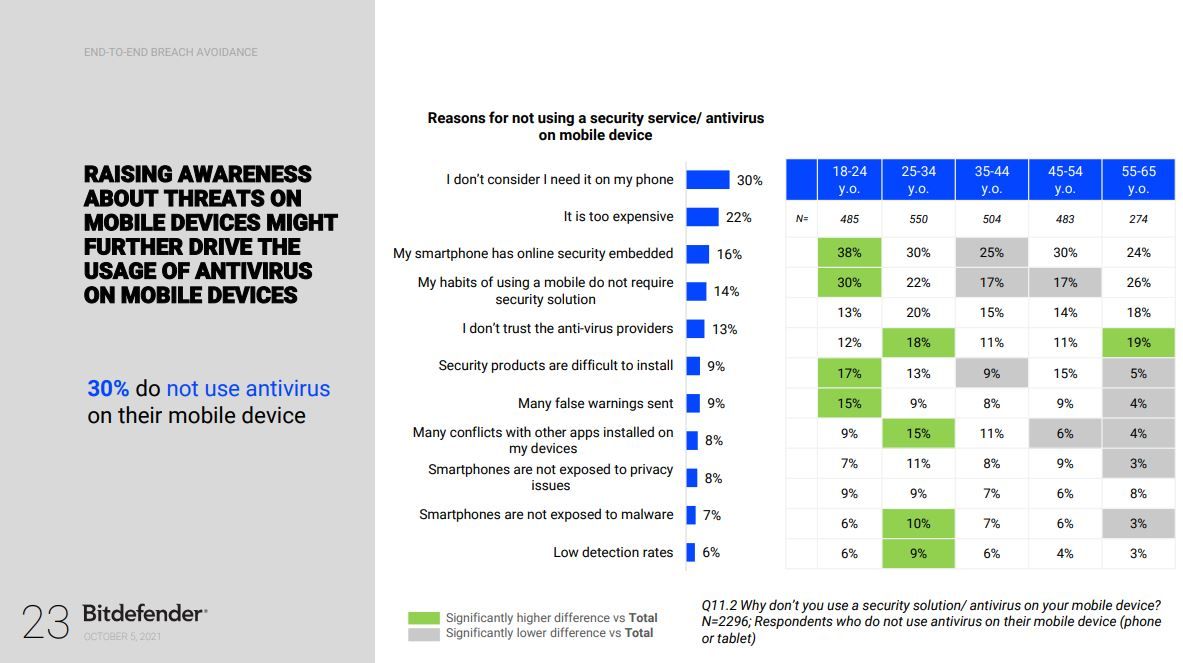 Whether these answers are legitimate beliefs or mere excuses opt for convenience, users still have a lot to learn about the threat landscape. It's important to stay on top of the threats, and for that we offer both free and paid versions of Bitdefender Mobile Security for phones and tablets.
Bitdefender Mobile Security for iOS and Android protects your personal data (passwords, email address, social and financial information), gives you instant alerts whenever an incident is prevented, and checks your online accounts against data breaches to inform you what passwords you need to change ASAP. It warns you of webpages that contain malware, phishing or fraudulent content, and you get a secure VPN so you can stay nimble, anonymous and safe on the web.
More recently, Bitdefender has introduced a new technology named Scam Alert into the Mobile Security & Antivirus app for Android. It flags malicious links arriving via SMS, messaging apps and pretty much any type of notification.
For a full view of our study, including online usage profiles and other interesting geographic/demographic facts, download the complete report below.
Bitdefender 2021 Global Report: Cybersecurity and Online Behaviors