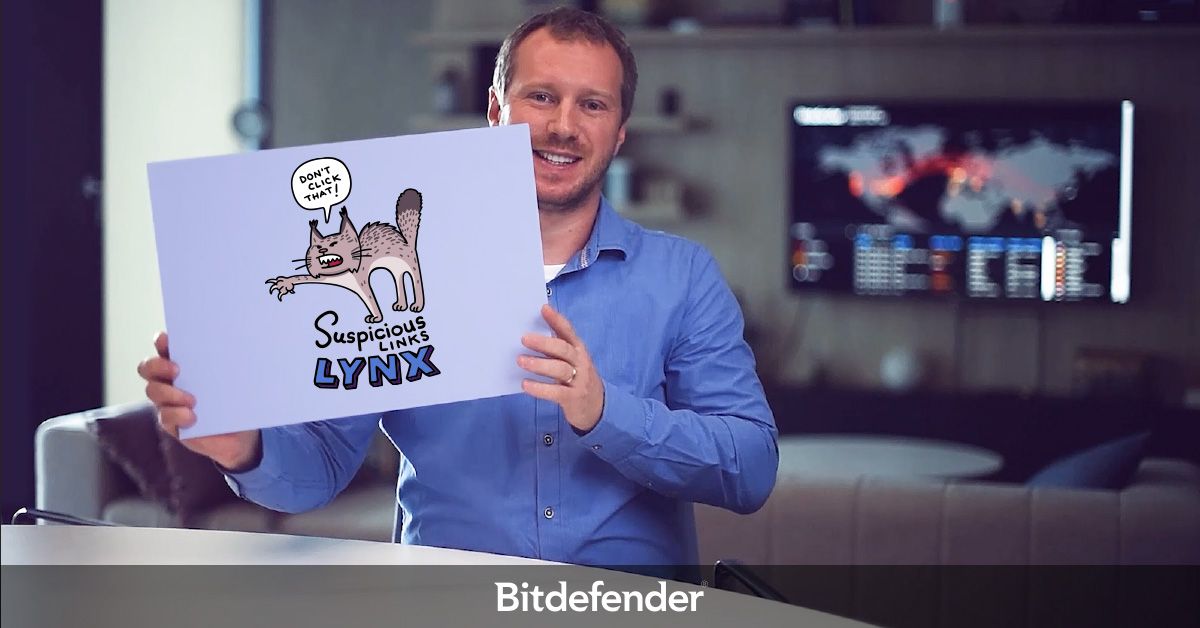 Cybersecurity awareness month is here, and we're running a fun new campaign for everyone following us. In this four-part series we enlist the help of four tech-savvy characters eager to dispense important security tips while surfing the web. This week, we give a warm welcome to Suspicious Lynx.
Remote work policies during the pandemic have given us a glimpse into the cybersecurity threat landscape. But we shouldn't be complacent.
Almost a quarter of Internet users frequently use work devices for personal affairs and over one-third of children have full access to devices in the household, a new study commissioned by Bitdefender shows.
38% of respondents admitted they'd rather share their email address than pay for an app or service, increasing their chances of landing in spammers' crosshairs and falling for scams or having their account stolen.
61% of internet users have suffered at least one of these two cyber threats in the past year, mostly via spam messages (36%) and phishing emails (23%). These social engineering schemes typically have one thing in common: malicious links.
Threat actors create a false sense of urgency – i.e. 'your account has been compromised' or 'click here to claim' – and encourage users to click on a link designed to steal their credentials or financial data.
Suspicious Lynx typically keeps to himself high in the snowy mountain peaks. But he follows the news regularly, and after seeing the results of our survey he felt compelled to take action. We were more than happy to offer the platform to give him a voice. His message:
"I use my long whiskers and large padded paws to pick up the slightest irregularities in my endeavors. I'm suspicious like that. You should do the same while dealing with suspicious lynx… I mean… links!
Hover with your paw over unsolicited links in emails, see if they take you elsewhere hidden from plain view.
Sniff out any grammar or spelling mistakes in the email body.
Claw the sender's address to check if it's really your bank making contact.
Zoom in to make sure the link isn't spoofed to read aaalmost like the real website you think you're visiting.
Got a completely irrelevant link out of the blue in a conversation you thought was genuine? Make a hard about-face. You're probably talking to a scammer.
Accidentally clicked on an ad and you're stranded? Close the page and leap back to safety! There is no reason to follow fake 'virus' prompts. Be suspicious! Let a real antivirus tell you that!"
We thank Suspicious Lynx for reaching out to our audience with these valuable tips. If you like him as much as we do, head over to Bitdefender's Instagram page and use the effects button to virtually stamp this skeptical wildcat on your T-Shirt.
Don't run off just yet!
We've also extended the free trial for Bitdefender Total Security from 30 days to 90. Bitdefender Total Security leverages threat intelligence to analyze and identify suspicious network-level activities. It also blocks malicious links or other online threats that your friends may unknowingly pass on to you via social networks. Download the package and experience best-in-class protection for your Windows, Mac, Android and iOS devices for three full months.
Stay safe!